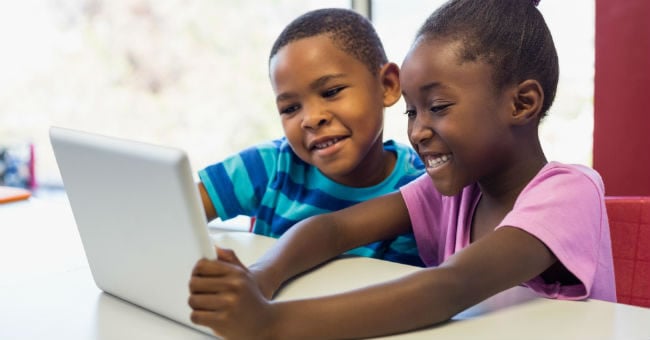 Tablets are playing an increasingly bigger role in the classroom, which is why it's important to make sure you choose the best tablets for your center or classroom. From Android tablets to Apple's different iPad models, there are numerous tablets to choose from. "Today's tablets are powerful devices, and quality varies. They can play many roles in a child's life, for better or for worse. The outcome depends on which tablet you choose, the apps (or software) you put on it, and the context you create for its uses," states Warren Buckleitner, PhD, in Buckleitner's Guide to Using Tablets with Young Children. Here are a few factors Buckleitner says you should consider when purchasing tablets:
Screen Size
When choosing tablets and other mobile devices for children, you generally have three options to choose from:
Small Screen (4 to 6 inches) – Smartphones and the iPod Touch typically have small screens, and they can easily fit in a child's hand and may feel more personal.
Medium Screen (6 to 9 inches) – The Kindle, iPad Mini, Little Scholar™ Tablet, most Android tablets for kids, and Samsung Galaxy Tab Kids Edition models have medium screens.
Large Screen (10-13 inches) – The regular iPad, the iPad Pro, the Shine-2 Tablet, and various Android models have large screens.
Internal Storage
Another factor you need to consider when choosing tablets for young children is the internal storage:
Small (16 GB) – Tablets with 16 GB of storage can hold about three full-sized movies, 16 of the biggest apps, 123 average-size apps, or 800 of the smallest apps. Don't forget about photos or music, which can easily take up 5 or 6 GB.
Medium (32 GB) – Tablets with 32 GB of storage have the best balance between size and price, giving you the ability to store about 246 average-sized apps.
Large (64 GB) – Tablets with 64 GB of storage give you about 492 average-size apps.
Extra Large (128 GB) – Tablets with 128 GB can hold about 984 average-size apps.
Protective Case
Make sure you choose protective covers for the tablets you choose. Here are a few questions to consider when choosing a case:
Does the case block important controls, such as the on-off button, volume buttons, etc.?
Is the headphone jack easy to access?
Is it hard to connect to the charging port?
Does the case adequately protect the device?
Can you easily snap the tablet in and out of the case?
Be sure to read our "Quick Guide: How to Choose Interactive Apps for Young Children" and "Technology in Early Childhood Education: Finding the Balance" blog posts for more technology tips from Buckleitner. You can also browse the Technology category of our Insights and Inspirations section for tips on choosing the best technology for your classroom, setting up your technology learning center, using social media in the classroom, and more.