Incorporating technology in the early childhood classroom can benefit children in several ways. The apps and activities you find on tablets and other devices introduce children to foundational concepts in fun and engaging ways, improving their ability to comprehend and remember the information they learn.

As an early childhood educator, you may worry that introducing tablets into the classroom will be a distraction. You may also worry that the apps and activities on a tablet will not help children meet learning outcomes and developmental goals. And if you introduce technology in the classroom, how can you ensure the children will be safe while using it?

We understand your concerns, which is why Kaplan works closely with early childhood experts to bring innovative, engaging, and developmentally appropriate technology products to classrooms worldwide. In this article, we will introduce you to a tablet that is perfect for young learners, how it will improve the educational experiences in your classroom, and ways you can safely incorporate its use in your daily lessons.
What are the advantages of incorporating tablets in the early childhood classroom?
Tablets provide a variety of benefits for children in your early childhood classroom. The educational activities and apps are interactive and fun, exposing them to foundational literacy, mathematics, science, and social concepts. For some children, interacting with the games on a tablet improves their ability to retain these skills.

Tablets also provide a flexible, on-the-go solution for education. For example, if you teach a lesson on seasonal changes in nature, children can take their tablets outside to capture pictures of tree leaves in various stages of photosynthesis. You can also adapt the activities available on your classroom tablets to meet the interests of the children using them and your classroom theme of the week/month.

The use of tablets in the classroom does not take the place of teacher-led discussions and lessons. Instead, these devices serve to enhance classroom lessons and provide alternate ways for children to learn.
What digital learning experiences will the Little Learner Tablet - Powered by Samsung Knox facilitate in the classroom?
The Little Learner Tablet - Powered by Samsung Knox covers a wide range of literacy, mathematics, science, engineering, and social/emotional skills. The pre-programmed apps introduce children to concepts such as:


Letter recognition and letter sounds
Number recognition and counting
Size comparisons
Colors and shapes
Spelling and early reading
Self-care and nutrition
Cause and effect
How do children use the Little Learner Tablet - Powered by Samsung Knox?
Digital safety is paramount when you bring technology and tablets into the classroom. The Little Learner Tablet - Powered by Samsung Knox includes a Kids Mode that limits the apps and activities children can access while playing. They will not be able to access the internet, YouTube, or any of the apps available in Parent/Teacher Mode.

While in Kids Mode, children will choose a game they want to play by tapping the game's icon on the tablet screen. The screen will go into full-size mode to minimize distractions and increase player engagement. Children will interact with the games by tapping and sliding their fingers on the screen, improving fine motor skills in the process. To exit full-screen mode, swipe up and push the < button.

A rubberized case protects the tablet from drops, scratches, and the rigors of an early childhood classroom. Children can plug in headphones while using the tablet to limit the amount of excess classroom noise.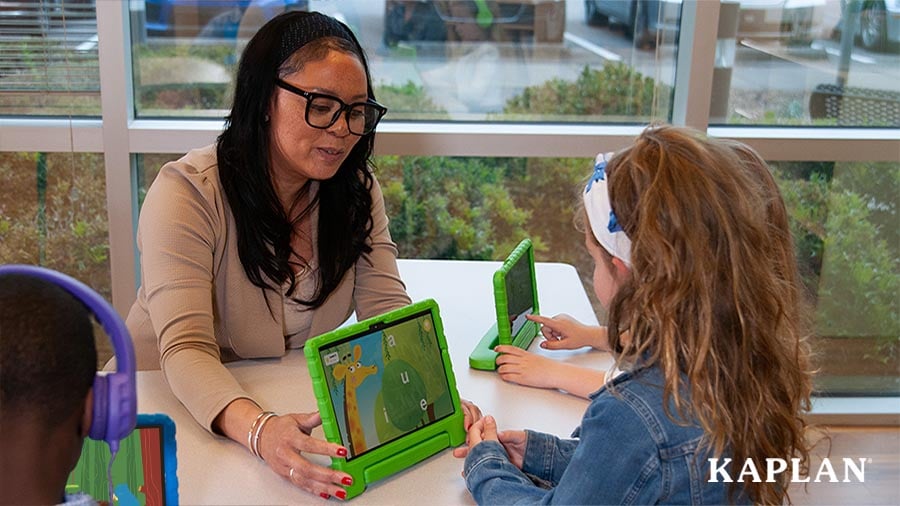 How do early childhood educators use the Little Learner Tablet - Powered by Samsung Knox?
Early childhood educators can use this tablet to enhance their daily lessons. This device is a great tool to introduce alphabet cards or interactive stories to children during morning circle time. It also makes a great addition to classroom center rotations and large group learning sessions.

While in Parent/Teacher Mode, educators can access the Google Play Store to download new apps or activities children can engage with. In this mode, you can also access Netflix, Spotify, YouTube, and Zoom, and you can search the internet for videos or music to incorporate into your daily activities.

You will need to enter a passcode to access Parent/Teacher Mode. This prevents children from accessing developmentally inappropriate apps or website content while the tablets are in the classroom.
What apps and activities are available on the Little Learner Tablet - Powered by Samsung Knox?
The Little Learner Tablet - Powered by Samsung Knox comes pre-programmed with apps and activities that children can play the instant you unbox your devices. Some of these games include:


Fish School, which introduces children to letters, numbers, shapes, and more.
Duck Duck Moose Reading, where children can feed a giraffe by matching different letters to their letter sounds. They can also learn spelling basics with a family of friendly lions.
Play & Learn Science, where children quench a dog's thirst using funnels and pipes to lead water to the dog's watering dish.
The Wheels on the Bus Interactive Book that children can interact with by tapping the screen to make objects move or make noise.
Toca Kitchen, where children can prepare food for hungry characters.

You can also use this device with augmented reality programs such as the Alive Studios Student Journals. These journals provide an interactive learning experience for young children using 3D animals to teach early literacy concepts. Another form of augmented reality that pairs nicely with this tablet is the Rugs alive™ Floor Rug. Children can use their tablets to walk around the rug, interacting with 3D animals while learning about their habitats.
Do I need a subscription to use the Little Learner Tablet - Powered by Samsung Knox?
No, you do not need a subscription to use this tablet. You will need access to a Wi-Fi network to download apps and activities. Some apps may require an internet connection, but most are ready to play once you download them to your tablet.
Want to purchase the Little Learner Tablet - Powered by Samsung Knox for your early childhood classroom?
The Little Learner Tablet - Powered by Samsung Knox brings a new level of educational experiences to your early childhood classroom. You can use this tablet during circle time or center activities to engage children in games that build the foundation of literacy, mathematics, and science concepts.

At Kaplan, we want to make it easy for you to introduce innovative technology, like tablets, into your classroom. The Little Learner Tablet - Powered by Samsung Knox is available in two screen sizes (8.7" or 10.5"). When shopping with us, you can order individual tablets or sets of 10, depending on how many devices you need per classroom.

Visit our website to learn more about The Little Learner Tablet - Powered by Samsung Knox, and to order this device for your classroom.

If you have any questions, reach out to your local Kaplan Sales Representative. They will be happy to assist you as you search for the best tablet for your early childhood classroom.