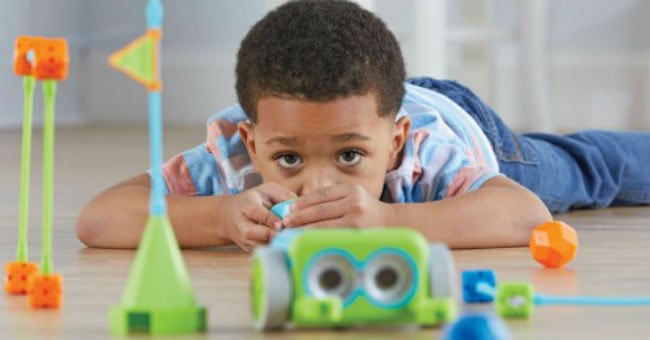 In 2012, the National Association for the Education of Young Children (NAEYC) and the Fred Rogers Center released a joint position statement that addressed the use of technology in early childhood programs. The need for ongoing research and professional development, intentional and appropriate usage, and attention to digital citizenship and equal access are just a few of the key messages shared in the statement.
In the years since the statement was first released, society's reliance on technology has continued to grow, and in correlation, the presence of technology in early childhood classrooms has also increased. Although the amount of technology usage that is developmentally appropriate for children is often debated, technology in the classroom provides a variety of extended learning opportunities while also preparing children for the future by helping them develop digital media literacy. Whether it's programmable robots or interactive tables, intentional and appropriate usage of technology in the classroom is a vital part of children's education.
Programmable Robots
Programmable robots, such as Primo® Cubetto and Botley® The Coding Robot, provide valuable opportunities for inquiry-based learning and STEM play, which are essential in developing 21st century skills. These robotics projects for kids teach basic coding and programming knowledge while also helping children develop critical thinking and problem-solving skills.
Tablets
Tablets have played a huge role in the increase of technology in the classroom. As reported in "How Google Chromebooks Conquered Schools" by Anick Jesdanun for the Associated Press (2017), Google Chromebooks accounted for 49 percent of the U.S. education market for personal computers and tablets. For younger children, educational tablets, such as the Shine-2 and the Little Scholar™ Tablet, are great choices for the classroom.
Interactive Tables
Interactive tables and interactive displays, such as the Engage-2, Inspire Plus, and Inspire Ultra, create collaborative learning centers for early childhood classrooms. Children can work together on interactive learning content, such as digital puzzles and games, that help children learn about math, literacy, and science. Many interactive tables and displays have a stand with wheels, making them easy to move around the classroom or move from room to room.
Augmented Reality
As explained on Merriam-Webster and Augment, augmented reality places computer-generated images on top of something that already exists to make it more meaningful and engaging. For example, Alive Studios makes powerful augmented reality learning tools that help children learn math and literacy in a fun and engaging way as animals that represent the letters or words students are learning come to life.
Be sure to browse our list of technology products, resources, and professional development for additional information on technology in the early childhood classroom.