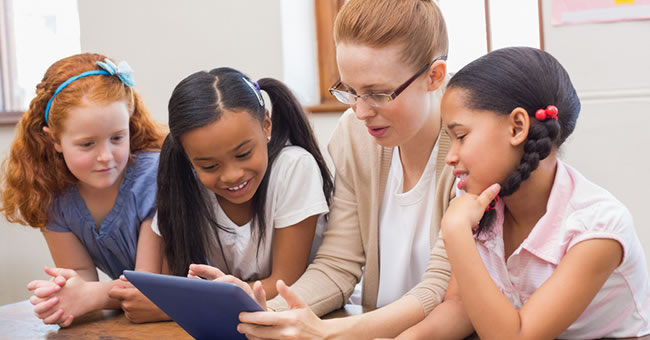 Social media has changed the way we live, communicate, and interact with the world. Each day, millions of people around the world tweet and post about their lives and what's happening in the world around them. Our lives are filled with social media websites and apps, hashtags, blog posts, trending topics, and more, but many people are still against bringing social media into the classroom due to worries of it being dangerous for children.
Educator and author Adam Dovico believes integrating social media and other parts of students' lives into the classroom can promote engagement and awareness. He encourages educators to take small steps when adding social media to the classroom and to celebrate victories as they work toward their goal of being a great 21st century educator. Here are a few tips based on Dovico's guest blog post "#Socialmedia in Your #Classroomteaching" he wrote for the Kaplan Blog:
Gain Perspective with Twitter – Two people who attend the same event will have different perspectives of what happened. Have students read a book about a historic event or show them a picture from the event. Ask students to compose a Tweet from the perspective of one or two of the individuals in the book or picture. Students will have to choose their words carefully since they only have 140 characters available.
End with a Hashtag – At the end of a debate, speech, or project presentation, have students summarize the point they're trying to make with a single hashtag they think represents their point of view.
Demonstrate Knowledge with Facebook – Have students research and create a Facebook page for historical figures, book characters, celebrities, or well-known figures. Students can use their research and knowledge of the individual to create status updates in that person's point of view.
Summarize Learning with Vine – Students can create six-second Vine videos to summarize what they're learning in class. The short videos will teach them how to summarize in a concise and clear manner. As the teacher, make sure you create a classroom Vine account for them to create and post their videos.
Share Videos with YouTube – YouTube is a great platform to host student videos. Have students create videos of them demonstrating a concept, analyzing or making a speech, reenacting a scene, etc. Be on the lookout for video contests students can enter to showcase their work and knowledge.
Connect with Classroom Social Media Accounts – Make sure you check your school district's social media policies before creating social media accounts. Decide which social media platforms you want to sign up for and create your classroom account(s). This is a wonderful way to showcase student work and connect with students, parents, and the community.
Be sure to browse our Technology section for more information about the technology options available from Kaplan.