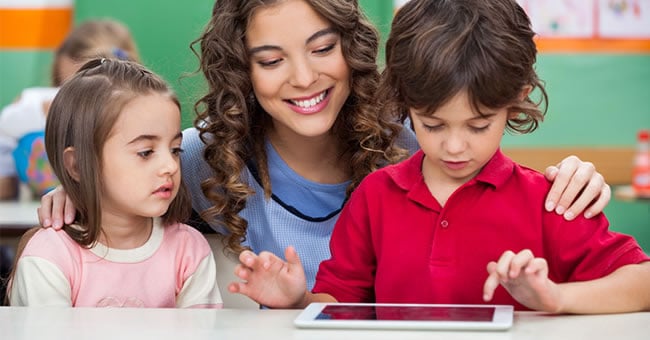 In today's technology-filled world, digital literacy (understanding how to find information and communicate with others through digital technology) is vital for both educators and children. Technology is becoming a major component in education, which is why it's important for you to include a technology learning center in your preschool classroom or child care center. You can help children understand how to appropriately use technology while also creating an interactive learning environment that helps children explore the world and learn about their surrounding community.
If you don't know a lot about computers, are working with a small space, or have a limited budget, finding the best technology for your classroom and setting up your technology learning center can be a difficult process. Here are a few steps that can help make that process easier and can also help you create a technology learning center the kids in your care will love:
1. Find the Technical and/or Financial Support You Need
If you want to integrate more technology in your classroom but struggle with understanding how to use technology, see if another educator would be willing to help you become more comfortable with using computers. Technology classes at a local community college are another option. If you have a particular piece of technology in mind for your classroom, you can also see if the company offers trainings or tutorials for its customers.
If you're more worried about the funding for a new technology learning center, be sure to talk with the director at your child care facility about any grants or other funding opportunities you could use. If funding isn't immediately available, apply for grants or hold fundraisers to raise the money needed. Some companies offer financing options, so be sure to check those out as well if you're looking at a particular computer, whiteboard, or interactive table. Instead of individual classroom learning centers, child care facilities also have the option of creating a technology center or computer lab for classes to share and cut down on costs.
2. Determine the Size and Location of Your Technology Learning Center
Once you have the technical and financial support you need, the next step is to determine the size and location of your technology learning center. The size of your technology center will depend largely on what type of technology you want to incorporate. One or two desktop computers will need a more defined space than more portable options, such as laptops, interactive tables, or interactive whiteboards. The overall size of your classroom, the total number of learning centers in the space, the number of children in your class, and the number of children you want to use the technology center at one time will also impact its size.
If you decide to integrate desktop computers in your classroom, your technology learning center will need to be more traditional and permanently located. Desktop computers usually encourage individualized learning and have a low noise level, so try to set up your technology center close to other quiet learning centers, such as the literacy center or the art center.
Your technology center will be more modern and mobile if you decide to integrate portable technology options (laptops, tablets, interactive tables, or interactive whiteboards) in your classroom. This means that you can move your technology learning center to different parts of the classroom when needed. Keep your technology center close to quiet centers when activities support individual learning, and move it to louder areas of the classroom when activities encourage group interaction.
If you would like more assistance in planning your classroom layout, How to Plan a Great Classroom Layout (Preschool Edition) and our Floorplanner tool are both great resources for educators.
3. Choose Appropriate Technology, Software, and Accessories
The type of technology, software, and accessories you choose for your learning center will strongly influence your students' digital learning opportunities. Here are a few suggested options for your technology learning center and a short explanation of how each can benefit you and the children in your care:
Suggested Classroom Technology Options
Desktop Computers - The most traditional of the available technology options, desktop computers will give children the opportunity to play educational games and research a variety of classroom-related topics. Touchscreen desktop computers are also available, which can help students interact even more with software programs that help them learn skills in reading, math, and science. As described earlier, desktop computers do require a permanent area in the classroom and can take up more space than other options.
Laptops - Laptop computers are a great compromise between traditional desktops and more contemporary technology options for the classroom. Laptops perform all the same functions and provide the same learning opportunities that desktop computers do, but laptops are more portable and take up less room. If you are working with a small space, consider storing laptops in a locked cabinet and allowing students to work with them at their desks during special times in class.
Interactive Whiteboards - Many interactive whiteboards are portable, but they can be harder to move since they are larger than many of the other technology options. Keep in mind that interactive whiteboards encourage and support more group activities than individualized learning activities. An interactive whiteboard can also be used as a presentation board and learning tool in class, which can help make learning a new topic or lesson more interesting for students.
Interactive Table PCs - Interactive table PCs can easily be moved around the classroom and encourage and support both individual and small group learning. Many interactive table PCs, such as the Engage-NG, can switch between horizontal and vertical positions, which makes them an even more versatile tool in the classroom. You can use an interactive table PC as a teacher computer, presentation board, and/or activity center, and it is also a great inclusion tool for students with special needs.
Tablets - One of the most portable technology options available, tablets encourage individual learning and are easy for children to grasp and use. Tablets can run app versions of many of the same programs as laptops and desktop computers, but they are limited in other functions. You can also use tablets to encourage reading with audiobooks and eBooks for children. If you're looking for a more limited option that serves the purpose of being a way to encourage digital learning in your technology center, tablets would be a great option for you to consider.
Camera/Camcorder - If you don't have the space or funds for an interactive table or whiteboard, consider other technology options that open up the world for children. Cameras and camcorders are great pieces of technology to have in the classroom and can be used to document classroom activities and projects, such as tracking seasonal changes in the weather or the growth of a plant. Encourage kids to take pictures of their art projects and science discoveries and then show them to parents at the end of the year or during parent's night.
Software - Educational games and learning aids are a must for whichever technological devices you choose for your learning center. Many devices come with a variety of educational software programs, so make sure you know what is included with your device before you look for additional software. There are also a variety of great software programs that encourage reading and help children develop math and science skills.
Accessories - You should also integrate accessories that facilitate digital learning in your technology learning center. A variety of items, such as digital microscopes and projection cameras, can be used with computers and whiteboards to help engage children with interactive and hands-on educational experiences.
4. Pick Out Furniture that Facilitates Digital Learning
The furniture you need for your technology learning center will be dependent on the technology you choose to include and whether your center is mobile or permanent. A computer desk, storage unit, technology cart, and table and chairs are a few furniture pieces you may want to consider adding to your technology center.
Finally:
How you set up your technology learning center will ultimately be determined by what technology you think should be integrated in your classroom and what you feel comfortable working with and showing students how to use. Browse our Technology section for more ideas on how you can integrate digital learning in your classroom.