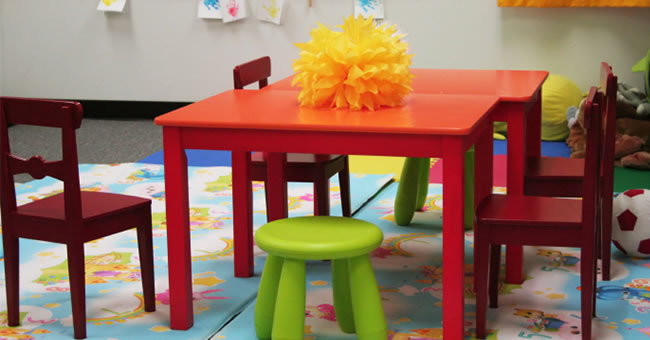 Preschool classrooms should encourage children to learn through interactive play and provide them with a variety of hands-on learning activities. Young children learn best when they are actively learning and experimenting with their surroundings, which is why many preschool teachers and programs opt for center-based classroom layouts. Whether that's the direction you decide to take your classroom layout or not, you can use the following suggestions and resources to plan a classroom floorplan that meets your specific classroom and educational needs.
Factors to Consider When Planning Your Preschool Classroom Layout
1. The size of your classroom
How much space you have to work with will determine the number of learning centers and materials you can include in your classroom. If you have a small classroom, consider mobile or multi-use options to make the most of your space. Keep in mind that a small classroom can still be a great learning environment if you make the appropriate preparations.
2. How many students will be in your class
The number of students in your care will have a direct impact on your classroom layout. If you need to accommodate more children in the space, you'll have to cut back on learning centers and activity areas or find alternative ways to incorporate them in your classroom.
3. The type of class space you would like to include
Whether you want your class space to be a sitting area, desk area, or combination of both, it's important that you establish a place in the classroom where you and all of your students can sit down together and learn. Be sure to include a teacher workstation for you to use in your classroom layout.
4. The number of learning centers you want to include
Base this decision on how much space you have to work with after planning out your class space and teacher station. If you only have room for a couple of learning centers, pick the ones that would have the biggest impact on your students. For a list of learning centers you can include in your classroom and how to set them up, visit our Setting Up Your Preschool Learning Centers page.
5. How much space you need for each learning center
Any learning centers you do choose to include in your classroom should have room for 3-4 children. Depending on the space you have to work with, you can have them accommodate less or more as needed.
6. Any sinks, windows, closets, or other permanent fixtures in the classroom
It's always best to utilize the permanent fixtures already present in your classroom for space efficiency. Try to place activity areas and learning centers that are typically messy (e.g. art, sand and water, etc.) near a sink if you have one. A science area placed near windows is also a great way to encourage kids to make real-time observations about nature and the weather.
7. The noise levels of learning centers and other classroom spaces
When you're planning your classroom layout, it's important that you consider the noise level of each space you plan out. Try to keep spaces with a low noise level placed together and separate from spaces that tend to have a high noise level.
8. The furniture you'll need for the learning centers and the overall classroom
Furniture can either take up more space than is needed or help you maximize your classroom space. Plan to use furniture pieces as learning center dividers and to use a variety of furniture pieces to enhance your classroom layout.
Finally:
Once you've considered these factors and have a good layout envisioned, you can put those plans to paper and make a floorplan for your classroom. If you need assistance making your floorplan, our Floorplanner tool can provide you with sample floorplans and will help make the process of creating your own easier.