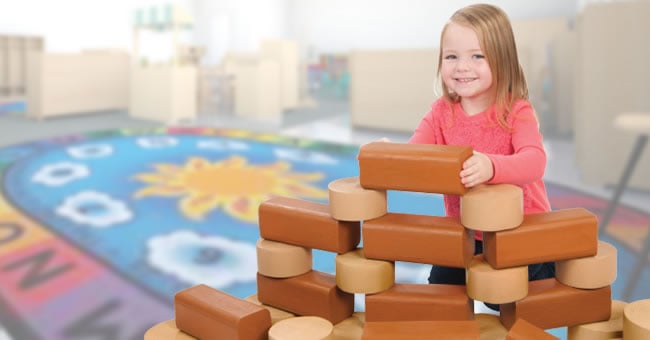 Children learn best through play and experimenting with their environment, which is why so many children enjoy block play. Having a block learning center is vital in early care and education environments, because block play helps children develop motor skills and learn about basic concepts of architecture and engineering. Block play also helps children learn to work with others and gives them creative design opportunities.
Setting up learning centers and choosing the materials needed in each one can be a long process, especially if your classroom or center doesn't have a lot of space. It's ultimately up to you to decide the design and materials included in each center, but here are a few steps that explain how to set up a block center that benefits the children in your care:
1. Determine the Size and Location of Your Block Center
The size and location of your block center is determined by several factors:
The overall size of the room.
The total number of learning centers in the room
The number of children in your care.
The number of children using the center at one time.
Keep in mind that most learning centers accommodate 3-4 children at a time, but space for two children is acceptable if you have limited space. Block centers should be located in an area with low traffic to avoid any accidental knockdowns of structures. Block centers are usually noisy, so place it near other centers that have a loud noise level, such as the dramatic play center, nature and science center, sand and water center, or the music and movement center.
How to Plan a Great Classroom Layout (Preschool Edition) and our MyKaplan Classroom FloorPlanner tool are both great resources if you're looking for assistance in planning a classroom layout that maximizes your space and supports learning.
2. Choose Furniture that Works Best in the Allocated Space
To give children a more comfortable space to build structures, choose a carpet or play mat that fits the space. Carpets can also be used to define the area children can build. If you establish that children can only build things on the carpet and away from shelving spaces, it will help confine messes and keep accidental structure knockdowns to a minimum. If you have the space needed, a table with chairs is also a good addition to your block center, especially if you have children with special needs in your classroom.
Storage furniture is also important to have in your block center. A block organizer provides great storage and can serve as a divider between centers. Remember that low furniture works best for block learning centers since children will be more likely to play on the floor in this area.
3. Facilitate Easy Clean Up with Storage Containers
If you don't have space for a block organizer or you need additional storage, you can keep your block center organized with storage tubs and containers. Label each container with a picture or description of the blocks that are supposed to be stored there. Storing blocks in storage containers also makes clean up easy if you ask kids to make sure they put the blocks in the appropriate container before they leave the center.
4. Pick the Right Blocks for the Children in Your Care
The blocks you choose for your center will dictate the block center lessons and activities you can do with your class. Your block center should feature several complete sets of blocks and a variety of props. Knowing which blocks are appropriate for the children in your care can be difficult since there are so many options available. Here are a few suggestions to help you pick the right blocks for your block center:
Suggested Blocks, Building Materials, and Accessories for Children
Block People & Animals - Giving children block people and animals they can include in their block structures encourages role play and helps children learn about animals, special needs, multi-cultural families, and people they may see in the community.
Infant & Toddler Blocks - Infant and toddler blocks are typically oversized to help young children develop basic motor and coordination skills. Popular blocks in this category include letter blocks, stacking blocks, nesting blocks, shape sorting blocks, and tactile blocks.
LEGO® & DUPLO® - A favorite among children and adults, LEGO® and DUPLO® offer a variety of building sets for almost any age group (starting at age 1 & up). These building sets can help children learn to count, develop motor skills, and eventually introduce them to robotics when children are older.
Magnetic Building Sets - Magnetic building sets are a great alternative to traditional block play and can help children learn about magnetic science and spatial relationships. Children will love building creative designs with Magna-Tiles® and Better Builders® building sets.
Soft Blocks - Foam and vinyl soft blocks help create safe environments for younger children and can help them learn about different textures, sizes, shapes, and colors. Giant foam block sets also encourage creative play and allow children to create life-size structures.
Unit Blocks - Unit blocks are the most popular and traditional blocks and are found in many preschool classrooms. Classroom sets provide children with plenty of building materials, and architectural unit blocks help children expand their knowledge of architecture commonly found in other countries.
Vehicle Play - Vehicles and traffic signs that can be used in block play encourage role play and help children learn about the world around them. Themed transportation sets also help children create and tell stories about the structures they create.
Wooden Blocks - Hardwood blocks are durable and can help children learn a variety of topics and themes. Wood-framed blocks, such as sand and water blocks, complement traditional wooden blocks and add something new to children's block creations.
Taking the time to properly set up your block learning center will help you create a fun and effective learning experience for the children in your care to enjoy.