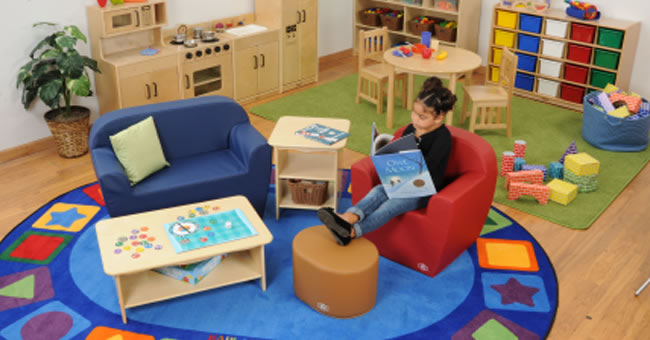 If you're struggling with fitting learning centers into your classroom space, you're likely not alone. From choosing the best location for each center to picking out and organizing materials, designing learning center spaces isn't an easy task. The authors of Inspiring Spaces for Young Children offer the following advice for early childhood educators working on their classroom layout and design:
Determine the room's size by measuring the length and height of walls, doors, and windows.
Consider the room's shape and architectural features when laying out your design.
Ensure all learning centers have been included in the design by checking them off as they are added to the layout. Circle areas on the graph that designate where centers should be located. When placing centers, consider their functions. For example, a quiet learning center should not be placed in the line of traffic or next to a loud area such as blocks. The science area may benefit from being close to windows or positioned on a hard flooring surface for sensory activities or scientific investigations. Also, remember to position your focal point so it is visible when entering the room.
Organize and keep each learning center's contents together. Items scattered throughout the classroom are visually confusing.
Define the learning centers on graph paper by drawing or placing cut-outs representing furniture. Be creative with the placement of shelves. Positioning furniture at 45-degree or 90-degree angles to walls creates separate and cozy spaces.
Create a list of smaller items needed for enhancing each learning center. Think about how the walls, ceiling, floor, shelves, and tables complete the overall look of each area.
Find ways to stimulate children's excitement by encouraging them to give their work as gifts to the room. Not only do these gifts personalize the classroom, but they honor children's work.
Be sure to check out the Classroom Setup category of our Insights and Inspirations section for additional design tips and resources.
Skip the graph paper, and try designing your classroom layout with our new and improved MyKaplan FloorPlanner! You can utilize one of our sample floor plans or enter your exact room dimensions and make your own room. The realistic 3D renderings, drag-and-drop design, and customized product lists simplify the process of creating your dream classroom.