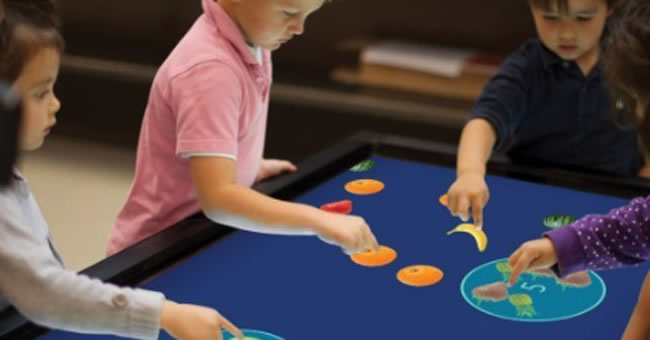 With numerous educational technology options available and conflicting guidelines on screen time and other recommendations, choosing devices and programs for your classroom can be an overwhelming experience. However, technology in the classroom isn't something you can ignore. Exposure to technology at home has led to the expectation that children will also use technology in classroom settings.
So, how can you ensure you're choosing the best technology for your classroom? Kelly Elmore, Educational Technology Consultant at Kaplan Early Learning Company, says researching technology options and using the guidelines below can help you make informed and educationally sound decisions for your students and classroom.
Draw on the knowledge you already have. You already have a wealth of knowledge about your students' learning styles and best practices in the classroom—draw on that knowledge to determine the best technology for your classroom.
Don't be intimidated. Many teachers find technology intimidating, especially if they're not digitally literate. It's important to remember that technology is just another way to instruct students and give them valuable learning opportunities while also helping them develop their technology skills. You can always learn how to use the device or program after a decision has been made—right now you need to focus on looking at the educational value of the technology and making the best choice for your classroom.
Purchase technology for the right reasons. Don't purchase technology for technology's sake. Randomly choosing technology or just choosing technology because it looks cool is a poor investment for your students and classroom.
Determine technology's purpose in your classroom. If you want to choose the best technology for your classroom, you have to know what its purpose will be in your classroom. Here are a few questions to consider:

Is the technology going to be used for assessment or as a way to provide natural learning opportunities?
Do you want the technology in your classroom to be stationary or mobile?
Will the technology support your current curriculum?
Will children be using the technology independently or in groups?
Do you want to use the technology for small group instruction?
Are you hoping to use the technology to improve the home-school connection?

Narrow down your options. Once you know what purpose you want technology to serve in your classroom, you can narrow down your options. If you're having trouble making a final decision, ask yourself these questions:

How does the technology support the purpose you identified?
Does the technology support the learning styles of your students?
What's the initial cost of the technology? Will there be ongoing costs with the device or program? Do you have the budget to support it?
Does the device or program include training or support?
Which device or program best meets your needs while still being in budget?
Using these tips and guidelines and drawing on your knowledge of how children learn will make the process of choosing new technology more manageable and rewarding. Visit the Technology category of our Insights and Inspirations section for a variety of tips on incorporating technology into the classroom.
Source:
Elmore, Kelly. "How to Select the Best Technology for YOUR Classroom." Exchange. Sept./Oct. 2015: 76. Print.
Related Articles
How to Help Teachers Who Struggle with Technology
Using Technology to Support Family Engagement
Supporting Digital Literacy in the Classroom
Using Social Media in Your Classroom
Using 3-D and Augmented Reality Tools in the Classroom