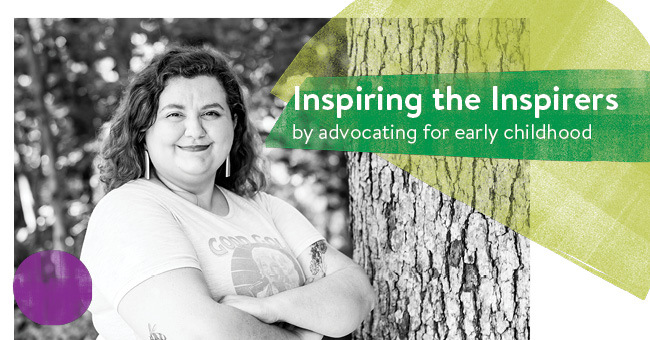 Kayla Conway, Content Marketing Manager of Kaplan Early Learning Company, has been selected as a recipient of the 2021 Winston Under 40 Leadership Awards.
The Winston Under 40 program—which is facilitated through Greater Winston-Salem, Inc.—is dedicated to emerging professionals whose strong sense of leadership has significantly contributed to the development of the Winston-Salem and Forsyth County area. Each year, the Under 40 program recognizes 20 young leaders whose proper display of leadership and commitment to service has enabled them to stand out as influential figures within their community.
Greater Winston-Salem, Inc. aims to foster a thriving community through the development of strong business growth and sustainability with an emphasis on economic development, talent recruitment and retention, career readiness, and advocacy. Their Winston Under 40 program promotes this through a focus on the three core areas of leadership development, community involvement, and networking opportunities. In selecting recipients for their Leadership Awards, they have selected the 20 individuals whom they believe best embody their ideals and will use them to work toward community growth in the way in which they envision. As a recipient of this award, Kayla's personal and professional contributions to the development of a strengthened community are being recognized.
As Kaplan's Content Marketing Manager, Kayla has a passion for lifelong learning, storytelling, and mentorship. She specializes in content creation, strategic planning, digital marketing, e-commerce, and more at Kaplan. Kayla first came to the Triad to attend Salem College where she earned her BA in English and Creative Writing in 2017—soon after, she earned her Masters in Library and Information Science from UNCG in 2019. Kayla is a proud member of Kaplan's inaugural Diversity, Equity, and Inclusion Committee and finds her greatest sense of fulfillment through helping others, whether it's mentoring interns participating in Kaplan's Internship Experience Program or supporting the education of young children through local literacy initiatives. When she isn't at Kaplan, Kayla enjoys diving into the stack of books on her nightstand, exploring local parks with her dog Crumpet, kayaking and swimming, and cross-stitching fun goodies for her family and friends.
We at Kaplan Early Learning Company are incredibly proud of Kayla for her efforts both within and beyond our community, and we delight in the fact that her hard work has been recognized and awarded. Please join us in congratulating Kayla Conway on receiving this prestigious award!
Explore Our Champions of Play
VP Anna Wilmoth Receives 2018 Winston Under 40 Leadership Award
Marketing Manager Raven Griffin Receives 2020 Winston Under 40 Leadership Award