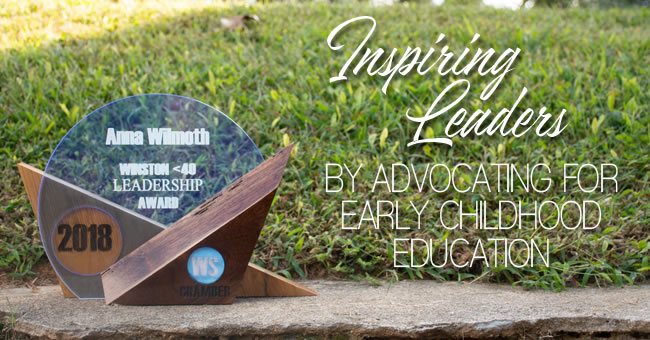 Lewisville, NC, October 8, 2018 — Anna Wilmoth, VP of Marketing and Merchandising at Kaplan Early Learning Company, was recently selected as a recipient of the 2018 Winston Under 40 Leadership Awards. The Under 40 program is a leading organization for young professionals in Forsyth County and recognizes exceptional individuals who demonstrate strong leadership skills and a commitment to community service.
The annual award goes to 20 young leaders whose professional and personal contributions make a positive impact in the Winston-Salem community. The Chamber of Commerce received 70 applications for this year's awards and selected recipients based upon their professional and personal growth, civic leadership and volunteerism, influence on Winston-Salem's future, and response to recent issues. "It is an honor to be recognized among such a strong business community," Wilmoth said. "My personal goal has been to mentor and inspire the next generation of influential business women in Winston-Salem, and Kaplan has supported that mission by developing civic and business leaders throughout the community."
The Chamber of Commerce selected Wilmoth as one of this year's award recipients for her work as an advocate of early childhood education, her support of women in the workplace, and her participation in local organizations. "As I learned more about early childhood education through my experiences at Gryphon House and Kaplan Early Learning Company, my passion for helping underserved communities rose to a new level," Wilmoth said. "At Kaplan, we participate in hundreds of yearly donations, fundraisers, and events to support children and families in our local community and throughout the country. This year, my proudest moment was traveling to Washington, D.C., to speak at the National Association for the Education of Young Children's Public Policy Forum. We galvanized teachers to march to our state representatives and demand that teachers and children be a priority for our legislature. My work here has only begun."
Wilmoth was recognized at an awards reception hosted by the Winston-Salem Chamber of Commerce on Thursday, October 4. Please join us in congratulating her on receiving this prestigious recognition and award!