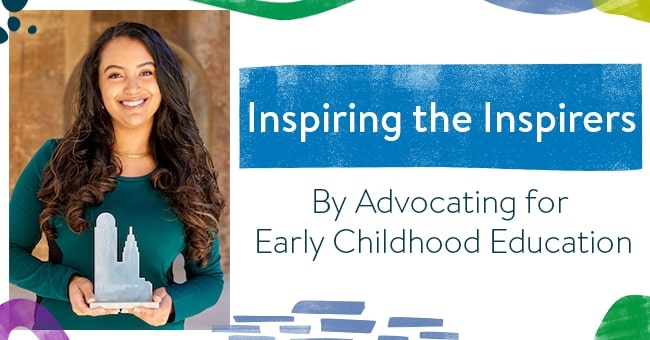 It was recently announced that Raven Griffin, Marketing Manager of Kaplan Early Learning Company, has been selected as a recipient of the 2020 Winston Under 40 Leadership Awards.
The Winston Under 40 program–which is facilitated through Greater Winston-Salem, Inc.–is dedicated to emerging professionals whose strong sense of leadership has significantly contributed to the development of the Winston-Salem and Forsyth County area. Each year, the Under 40 program recognizes 20 young leaders whose proper display of leadership and commitment to service has enabled them to stand out as influential figures within their community.
Greater Winston-Salem, Inc. aims to foster a thriving community through the development of strong business growth and sustainability with an emphasis on economic development, talent recruitment and retention, career-readiness, and advocacy. Their Winston Under 40 program promotes this through a focus on the three core areas of leadership development, community involvement, and networking opportunities. In selecting recipients for their Leadership Awards, they have selected the 20 individuals whom they believe best embody their ideals and will use them to work toward community growth in the way in which they envision. As a recipient of this award, Raven's personal and professional contributions to the development of a strengthened community are being recognized.
As Kaplan's Marketing Manager, Raven has a passion for storytelling and a heart for children. She specializes in branding, marketing, ecommerce, and public relations at Kaplan. As a native of the Triad, Raven returned to the area after graduating with an M.A. in Communication from Virginia Tech. Service, to Raven, is a form of love in action and she embodies this notion through her participation in various service projects and opportunities including devoting her time and gifts through her church, mentoring high school girls, supporting the Family Service's Pre-K Priority initiative, volunteering with the local affiliate of the National Association for the Education for Young Children (NAEYC) and engaging with the local Virginia Tech alumni chapter. On a national level, Raven has had the honor of serving by representing Kaplan at national public policy forums in Washington, D.C. advocating for equitable childcare and fair pay for educators. When she isn't on the go, Raven also enjoys providing marketing consultations to local small businesses, baking delectable confections, and spending time with family and friends.
We at Kaplan Early Learning Company are incredibly proud of Raven for her efforts both within and beyond our community, and we delight in the fact that her hard work has been recognized and awarded. Please join us in congratulating Raven Griffin on receiving this prestigious award!