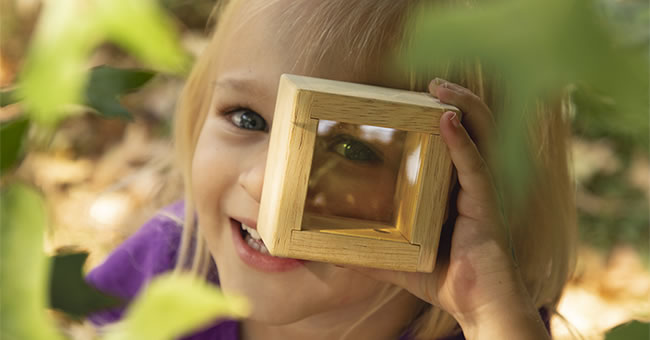 When was the last time you played? For how long? What did you do? How did you feel during and after?
When we think of play, we almost always picture children dressing up in costumes, exploring their imaginations, running around outdoors, and having fun. But, we rarely picture the learning that children experience through play. Play offers infinite possibilities for learning, creativity, and growth. From pretend play to guided play, children need all types of play each day. When you're a champion of play, you're supporting more than games and dress up, you're supporting a lifetime of learning.
What Is A Champion of Play?
A champion of play is an education warrior–someone who takes a stand for play and the transformative learning experiences it creates for children. In Kaplan Early Learning Company's case, a champion of play is an organization that advocates for lifelong learning and provides the necessary tools to expand imaginations, open minds, and lead education initiatives. Perhaps most importantly, a champion of play is dedicated to transforming the lives of children for the better. Kaplan is a champion of play, and we have been for over 50 years.
Since 1968, Kaplan has embodied the vision of its founder, Leon Kaplan, by providing developmentally appropriate resources that help foster the growth of the whole child–cognitively, physically, socially, and emotionally. Today, as a leading international provider in the field of early care and education, Kaplan works tirelessly to bring innovative educational products and services to children, their families and caregivers, and the educators that serve them. Play is serious business and we strive to improve educational outcomes for all children.
We're for play. And all of its possibilities. How it pulls us together and sets us free to explore. We believe that learning and fun are lifetime companions, and that the earlier they meet the more inseparable they become. We're for bond building. Between student and teacher, child and parent, friend and friend, and all of the combinations therein. We are defenders of the imagination and the archenemy of dull. Architects of learning environments, creators of learning goods (and good), keepers of the learning flame. We live for open minds and the opportunity to fill them.
When We Play, We Learn
As champions of play, the importance of learning through play goes beyond our vision. Play transforms learning into something extraordinary. It enhances language, memory, physical development, health, peer relationships, social-emotional skills, executive function, a child's sense of agency; it releases stress, increases creativity, and supports flexibility and adaptability. Learning through play creates an enthusiasm for learning that children will carry throughout their entire lives. Simply put: when we play, we learn.
Learning and fun have always been synonymous and every service and product we provide highlights the importance of that crucial relationship. As classrooms continue to grow and evolve, determining the balance between the two, we advocate for lighthearted and imaginative learning experiences. Now, more than ever, we are seeing the importance of learning through play. As Kaplan carries the torch in inspiring the next generation of leaders, artists, and great thinkers, we want to open the minds of children everywhere and be a company that grows with them. Since our start, we have always promoted the vision of learning through play, and we will continue to promote that for years to come.