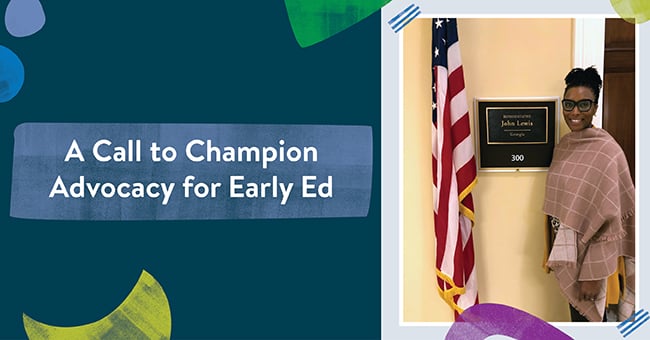 In this blog, Dr. Nadia J. Jones — Kaplan's Chief Content Officer and current member of the NAEYC Governing Board — shares a recap of the NAEYC Public Policy Forum and invites administrators, educators, parents, and caregivers to begin their journey as advocates for early childhood education.
What is the NAEYC Public Policy Forum?
Hundreds of educational leaders and community advocates ascend upon Washington, D.C., to participate in seminars and workshops about the legislative work taking place throughout the country. Participants also meet with their state affiliate teams to plan their Capitol Day meetings and talking points. It will be important to know who your elected officials are so that your team leader can assign your meetings accordingly. However, if you are unaware of who your elected officials are, your affiliate team can assist. Do some research to see if they have small children of their own or that they care for. Maybe they are grandparents or were former educators. All elected officials have a social media presence and you will want to spend some time reviewing their posts to identify issues that they have or will be advocating for. This preparation will help you and your state team representatives prepare for your Capitol Day meetings.
Who attends the NAEYC Public Policy Forum?
The NAEYC PPF is an event that is open to everyone however the target audience is often educators, legislators, corporations, and organizations who support early childhood initiatives or have an interest in supporting the field of early childhood education and want to learn how to do so.
What do you learn at the NAEYC Public Policy Forum?
The PPF is an excellent way to connect with other practitioners, community advocates and educators from all over the country. There are workshops for first-time attendees that share ways to engage as well as strategies to help participants maximize their PPF experience. Your state affiliate team leaders will review the discussion topics with you as you prepare for the meetings with your assigned legislator. There will also be legislative and program updates provided by local and national organizations. There may also be information shared with participants informing them about upcoming events or position statements that will impact the field and industry along with resources for them to share with their respective organizations (i.e., Census, Power to the Profession, America for Early Ed). The NAEYC always does an excellent job providing participants with talking points and resources to help them navigate these passionate, yet important discussions. In addition to learning how to be an advocate you also learn how to move from advocacy to action in the variety of workshops that are planned for participants.
Why is it important to advocate?
Advocacy is important because it is through your efforts that communities, organizations, legislators, and others can be informed about the issues that early childhood educators and their families face. Your advocacy in conjunction with that of other PPF participants creates a powerful and collective voice that commands the attention of leaders from all over the country and they want and need to hear from you!
How can you become involved in policy efforts/advocacy?
There are local and national organizations that track policy and legislation related to children and families (NAEYC, Zero to Three, National Black Child Development Institute). Many of these organizations have state and local affiliate groups that you can connect with. The affiliate groups host regular meetings, conferences, and trainings which are all excellent ways to stay informed and involved. Sending letters to representatives and legislators describing why the issue that you're advocating for is so important to you and/or your community is always a great idea. Attending School Board, City Council, and Town Hall meetings are also great ways to meet and ask specific questions of your local and state leaders.
Get started on your advocacy journey with these helpful links!
About the Author
Nadia J. Jones, PhD, currently serves as Kaplan Early Learning Company's Chief Content Officer and previously served as Executive Director of the Atlanta First Day School. Dr. Jones is a native of New Jersey by way of North Carolina and moved to Atlanta, GA from Fairfax, VA in 2010. She lives and breathes collaboration and truly enjoys serving children and families of all ages and walks of life.
During her time as Director of Early Childhood Education for the Atlanta Children's Shelter, Dr. Jones oversaw the administration of free, quality childcare, emotional support, and an education curriculum for homeless children, including focused social services for their families overcoming issues that contribute to homelessness such as domestic violence and job loss. Her efforts were pivotal in the Atlanta Children's Shelter receiving its state license from the Department of Early Care and Learning and its accreditation from the NAEYC.
As an EdTech subject matter expert, Dr. Jones also enjoys helping educational leaders identify and implement the best types of digital tools to support their instruction, student engagement, and daily productivity. She has served the community as a member and leader in various local and national organizations such as: The Junior League of Atlanta/Georgia, Black Child Development Institute, Georgia Association for the Education of Young Children (GAEYC), Georgia Child Care Association (GCCA), March of Dimes, and Alpha Kappa Alpha Sorority, Inc.
Dr. Jones has a bachelor's degree in family and community services from East Carolina University, a master's degree in education leadership from George Mason University, and a doctorate degree in education leadership from Clark Atlanta University, and her research topic was, "The Intentional Uses of Technology in Early Learning Environments."