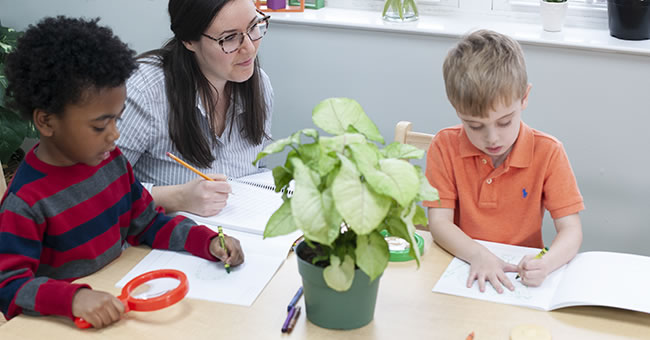 In this blog, Dr. Laura Bailet — Kaplan's Chief Academic Officer — provides educators with practical guidance and strategies for adapting assessments to meet the classroom challenges presented by COVID-19.
With all the challenges facing schools and early childhood programs this year, it may be tough to even contemplate conducting child or classroom assessments. But assessment may be more important this year than in more typical years. The most valuable use of assessments in early childhood settings is to gather meaningful data that informs teaching and guides and strengthens children's learning. Given all the changes that have taken place within programs and children's lives, assessment provides an essential tool to document baseline functioning and shape learning opportunities that ideally will restore a more typical developmental path and pace for growth.
Individual Child Assessment
Because of the significant educational disruptions that began in the last school year and continued through summer and into the new school year, children's skills will be more variable and less predictable than before. Under these circumstances, it is essential to have reliable data to inform instructional planning and then monitor each child's progress. For programs in which children are back in the classroom, individual child assessments should proceed in the usual manner. For programs using distance learning either part-time or full-time, adaptations are required, while still maintaining the integrity of the assessment process according to authors' and publishers' guidelines. All assessments also should be conducted within the guidelines developed by your early childhood program or school district.
Fortunately, detailed guidelines for adapting assessments in early childhood have been developed for frequently used instruments. For example:
Guidance for the Learning Accomplishment Profile™ (LAP) assessments (LAP™: Birth - Kindergarten, E-LAP™, LAP™-3, and LAP™-D) can be found here.
Guidance for the Devereux Early Childhood Assessment (DECA), which focuses on young children's social and emotional skills and needs, is available here. Given the increased stress on children and families as a result of COVID-19, the DECA could provide essential information to guide more intensive efforts supporting greater social and emotional needs of young children during this school year.
Classroom-Level Assessment
Equally as important as assessing the current skill levels of young children is to assess the quality of teacher-child interactions in the classroom, be it in person or virtual. With so many health precautions in the physical classroom, including social distancing and mask-wearing, and generally increased stress levels, teachers' interaction styles are bound to change. For teachers providing lessons remotely, a whole new set of challenges exists to establishing and maintaining key behaviors that translate to warm, responsive interactions with children. Because teachers are likely very focused on all the new practices they have to implement, they may not realize that the quality of their interactions with children may have changed. Yet regardless of whether they are physically at school or learning remotely, children still learn best in the context of supportive, high-quality teaching interactions throughout their day. Helping teachers understand how their interaction style may have changed and receiving coaching or guidance based on assessment data for their current teaching context, is essential for children to achieve their greatest learning gains.
The Classroom Assessment Scoring System (CLASS®) developers have created extensive guidance on using this instrument during COVID-19, which is available here.
Using Assessment Data For The Greatest Good
Any early childhood assessment should be completed primarily for the purpose of benefitting young children. Particularly at the start of the current school year and within the context of school disruptions due to COVID-19, teachers and program directors should be mindful not to take a deficit-oriented approach to interpreting assessment results. Children from impoverished backgrounds, in particular, may have lost ground developmentally as a result of school closures, lack of adequate home learning resources, and family stress associated with these extraordinary times. These developmental lags may be temporary and situational and should be viewed as positive opportunities to foster strong yet developmentally appropriate learning experiences from the beginning of the new school year.
Similarly, initial CLASS® assessments should lead to a positive support plan, rather than a harsh judgment against a teacher's performance. In many ways, educators are on the leading edge of the response to COVID-19, tasked with continuing to teach our children despite significant health risks, often without the comfort and familiarity of their classrooms, and for many, while facing a whole new set of virtual teaching skills and expectations.
Therefore, the mindset when collecting assessment data and sharing findings should be positive and constructive. Assessors should remember that any assessment is merely a snapshot in time, providing a current but incomplete picture of how a person functions, and all the factors that contribute. In today's difficult environment, every child and every teacher deserves thoughtful, data-based support and grace.
About the Author
Laura Bailet, PhD, Chief Academic Officer, Kaplan Early Learning Company
Dr. Bailet has more than 30 years' experience in the field of early childhood. She earned her BA at Wake Forest University and her MA and PhD from Northwestern University. She is a licensed school psychologist and has expertise on a wide range of early childhood topics and learning disorders, including dyslexia and autism. The former Operational VP at Nemours Children's Health System and Assistant Professor at the Mayo Clinic College of Medicine and Science, she has published numerous journal articles and book chapters and has been recognized by many award boards. For her accomplishments, Dr. Bailet was selected as the top "Change Agent" in Jacksonville, FL, in 2006 and is the recipient of Jacksonville's prestigious EVE Award for her success in creating Nemours® BrightStart!, the program to promote reading success for all children. She is a member of the Library of Congress Literacy Awards Advisory Board.