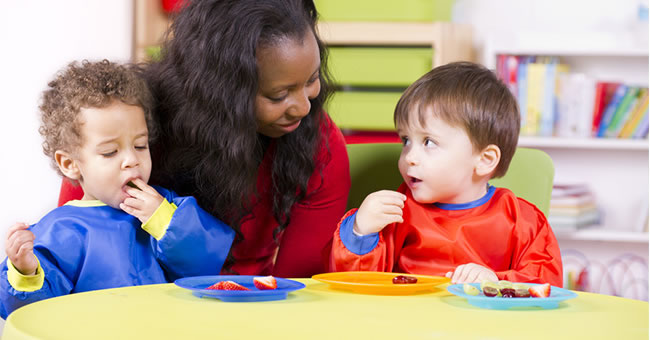 Assessment is an important aspect of any early childhood environment. It is intertwined with a program's curriculum and serves as a marker for making decisions about curriculum and program choices. Assessing infants and toddlers helps early childhood professionals learn about and understand each individual child, track each child's development, and arrange early intervention strategies for any red flags or potential concerns. Screening and assessment ultimately provides the insight needed to create individualized instruction plans that address children's needs and interests while helping them learn and grow. Assessing infants and toddlers can be difficult, however.
Infants and toddlers may have a limited small attention span. Additionally, a variety of factors (illness, fatigue, etc.) can affect how they behave and how well they perform tasks. "The younger a child, the more likely he or she is to fall asleep, become distressed, refuse to comply with directions, or be distracted from assessment activities. Professionals should be prepared to modify activities, explore alternative procedures, and/or reschedule rather than risk gathering faulty information that compromises assessment results," the authors of A Guide to Assessment in Early Childhood explain.
Selecting the best infant-toddler assessment tools for your program and the children in your care can help make the assessment process easier. The National Association for the Education of Young Children (NAEYC) has defined a number of guidelines for assessment tools and strategies that you can use to select an appropriate infant-toddler assessment:
Screening and assessment materials should be developmentally appropriate and created specifically for the age group in your care.
Assessment should utilize a variety of tools and processes, including children's representative work (artwork, stories they write, etc.), observation records, and progress summaries.
Assessment should be inclusive and recognize diversity in children's backgrounds, learning styles, and rates of learning.
Assessment tools should support children's development and learning; assessment should not make them feel bad about themselves. A focus on what a child can do independently and with assistance is the best marker of his or her growth and development.
Assessment should rely on procedures that occur during real activities and classroom experiences instead of putting the focus specifically on skills testing.
Regular and periodic assessment should occur in a wide variety of circumstances with information about children's growth, development, and learning being systematically collected and recorded.
Teachers should be the primary assessor, but assessment should also promote parent involvement and encourage children to participate in self-evaluation.
Assessment should encourage parent-teacher collaboration with information about children's growth, development, and performance being shared regularly by both parties.
For more information about selecting an appropriate infant-toddler assessment, browse the article sources and additional resources we listed below. You can also contact your local Kaplan representative for additional assistance.
Article Sources
A Guide to Assessment in Early Childhood: Infancy to Age Eight. Washington State Office of Superintendent of Public Instruction, 2008.
Bredekamp, S. & Rosegrant, T. (Eds.). (1992). Reaching potentials: Appropriate curriculum and assessment for young children, Vol 1. Washington, DC: National Association for the Education of Young Children.