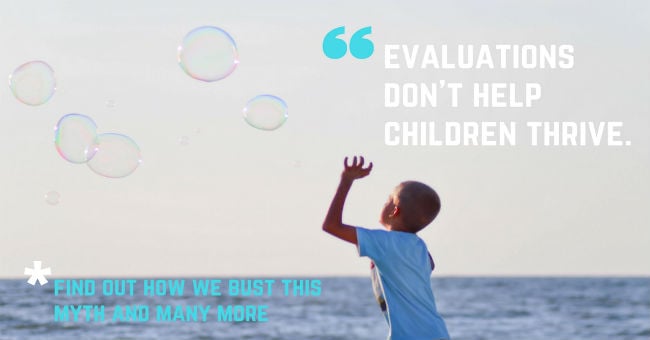 Article by Laura Bailet, PhD, Kaplan's Chief Academic Officer
Over the course of my more than 30 years in early childhood education, I've watched the controversy and confusion over assessments unfold. Some teachers believe that assessments are just a formality. Others are concerned that children will be labeled for slower learning. Some teachers fear that they'll be forced to concentrate too much on preparing students for assessments at the expense of other important topics.
At the core, formative assessments ensure each child is set up for success. They're an accurate way to measure student progress and determine if lesson plans and/or teaching strategies are working. Unlike a summative assessment (e.g., state-mandated end-of-grade tests), formative assessments are regular checkpoints that determine if children are developing certain skills, and if educators need to implement new strategies to help children master them.
To set the record straight, I've compiled and debunked a list of the top myths I've heard about formative assessments in early childhood education.
Myth 1: Assessments don't help children thrive.
Fact: Educators rely on assessments for a multitude of reasons, all of which center around creating the best possible learning environment for each individual child. First and foremost, assessments help educators evaluate the quality of a program to ensure it meets each student's needs. Assessments also guide lesson plans and help educators select appropriate curricula to ensure teachers' efforts continue to meet students' evolving needs. Assessments also support teacher-family relationships, helping teachers communicate with parents about their children's progress and learning.
Myth 2: Assessments take time away from learning and exploring.
Fact: Formative assessments are a part of children's learning, play, and exploration. It's not one or the other. In fact, teachers can easily incorporate formative assessments into children's play, rather than intrude on it. Research shows that children demonstrate stronger skills through play and even learn best through play, so it only makes sense that teachers would get a more complete picture of a child's development and skill mastery when observing a child play, learn, and explore.
Myth 3: Assessments only need to happen once a year.
Fact: Assessments and observations should be ongoing and diverse and should include a variety of children's activities. Ongoing assessments help educators see each child's progress toward key milestones in all developmental areas. Most importantly, ongoing assessments help teachers consistently evaluate and adapt their lesson plans to meet the needs of all students.
Myth 4: Assessments punish children who don't "assess well."
Fact: A good assessment is not punitive. Rather, it evaluates individual learning and development and helps educators determine the best path to help each child succeed. Formative assessments are woven into the fabric of everyday activities in the classroom in an authentic, supportive manner. Children respond well to these opportunities to show what they know, and the teacher will naturally adapt his or her assessment style for the benefit of each child.
Myth 5: Assessments are only valuable to teachers.
Fact: Formative assessments help all parties involved—teachers, parents, and children. They provide each child with the most optimal learning environment for his or her needs. Assessments facilitate a stronger family-school connection, as teachers communicate with families about the important milestones in students' development. Assessments also provide teachers and parents with the opportunity to strengthen their relationships to support children as they grow.
Rather than focus on why we assess, I'd rather shift the conversation to how we can improve our assessments. How can parents become more involved? What kinds of questions should we ask ourselves during assessments? How can we be more proactive to each student's needs?
The tools developed by our partners, including the Learning Accomplishment Profile and DECA, promote the best ways to evaluate and optimize children's learning experiences in all stages of early development. In addition, Kaplan's curricula, especially Connect4Learning®, build in formative assessment and checklists as additional methods for identifying children's skill levels. Another critical component of assessment for young children includes ratings of the classroom environment. Great examples developed by our partners are environmental rating scales ECERS , ITERS, and CLASS. Want to learn more? Read our Assessments and Curricula Comparison.
About Laura Bailet, PhD, Kaplan Early Learning Company
Dr. Bailet has more than 30 years' experience in the field of early childhood. She earned her BA at Wake Forest University and her MA and PhD from Northwestern University. She is a licensed school psychologist and has expertise on a wide range of early childhood topics and learning disorders, including dyslexia and autism. The former Operational VP at Nemours Children's Health System and Assistant Professor at the Mayo Clinic College of Medicine and Science, she has published numerous journal articles and book chapters and has been recognized by many award boards. For her accomplishments, Dr. Bailet was selected as the top "Change Agent" in Jacksonville, FL, in 2006 and is the recipient of Jacksonville's prestigious EVE Award for her success in creating Nemours BrightStart!, the program to promote reading success for all children. She is a member of the Library of Congress Literacy Awards Advisory Board.