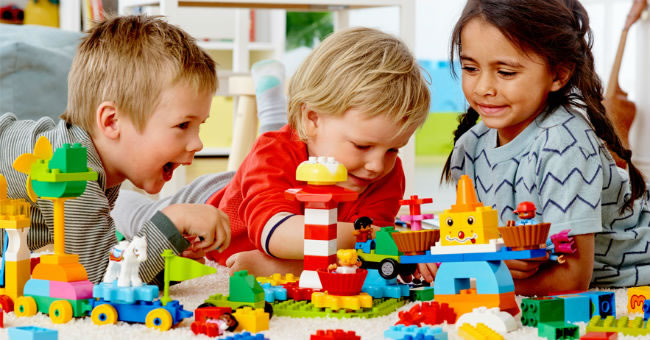 "Play is often talked about as if it were a relief from serious learning.
But for children, play is serious learning. Play is really the work of childhood."
-Fred Rogers
Play is natural for children, which is why play presents such wonderful learning opportunities for young children. When you think of STEM (Science, Technology, Engineering, and Mathematics) and STEAM (all of STEM + the arts), you typically don't think of play. Instead you imagine children sitting at desks doing math worksheets or doing scientific experiments. However, one of the best ways you can support STEM learning in the classroom is by incorporating it into play. To do that, you need to have the necessary tools, resources, and materials in place to facilitate learning through play:
Look for open-ended materials that can be used for a variety of things. Building sets and materials are a great example. Children love to build things, but building can teach children a variety of skills and concepts.
Choose materials and resources that promote play and creativity while helping children understand STEM/STEAM concepts. As discussed in research from LEGO® Education on how preschoolers can benefit from learning STEAM early, "… the playful aspect of such resources keeps [children] intrinsically motivated to continue to learn, inside and outside the classroom."
Have a list of open-ended questions on standby to ask children as they play. Asking them what and why questions expands children's play and encourages them to maintain and develop their natural curiosity. It also encourages them to think of new and interesting ways to use the materials they're playing with.
One of the newest products we offer that combines play with STEM/STEAM is STEAM Park from LEGO® Education. The 295-piece set helps children grow their understanding of gears, motion, measurement, and problem solving in a fun and engaging way. STEAM Park also comes with 8 double-sided building inspiration cards with 16 models to build, 5 activity idea cards, and a teacher's guide with six STEAM lessons. As an approved distributor for LEGO® Education solutions, we also offer a variety of other LEGO® Education sets that can help children discover a world of creative expression and learn through play!