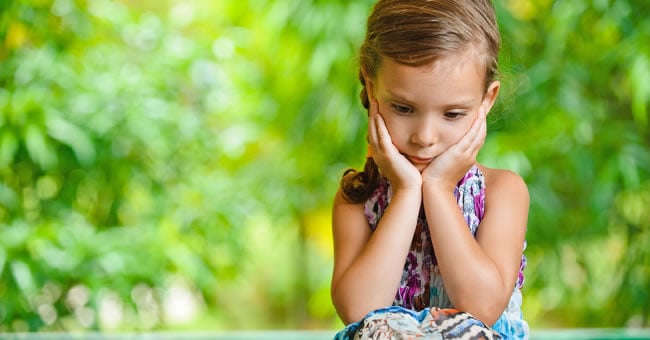 The concept of death and the subsequent feelings of loss and grief can be difficult to explain to young children, especially if they are not yet old enough to fully understand the finality of death or what causes people to die. When a death occurs that affects one or all of the children in your care, it's important that you know what you should and should not do to help children cope. The following list of what educators should not do when helping children deal with grief and loss is included in The Crisis Manual for Early Childhood Teachers:
Do not avoid acknowledging or talking about death with children. Talking about death before children experience it at a personal level will help children better cope when someone they know dies.
Do not assume that children will understand death. Children understand death in progressive stages, so how much a child understands will be based upon his or her age and any prior discussions about death.
Do not tell the child how he or she should be feeling or reacting. Children have to work out their feelings about death and loss. You can help them work through those feelings, but you should never dictate what they should feel or how they should react.
Do not act surprised if the child does not appear sad or unhappy. How children react to a death will vary–some children may cry and act out while others may act like themselves.
Do not impose your own religious beliefs on the child. Your religious beliefs may not be what the child's family believes, so it's best not to say anything that may confuse the child or cause conflict with the child's family.
Do not use the word "sleep" when you talk about or explain death. Children may not understand that death is final or they may be afraid to go to sleep at night if you use the word "sleep" to explain death.
Do not tell a child that someone died due to illness. This will cause younger children to worry that anyone who gets sick will die. Let them know that most people who get sick feel better after a short time.
Do not tell a child someone died due to old age. A young child may think that a teenager is old, so avoid saying that someone died of old age to ensure that children won't worry about their older siblings or family members.
Do not use euphemisms when talking about death. Using euphemisms, such as "We have lost Grandma," can be very upsetting and confusing for children. They will likely think that Grandma is lost somewhere and wonder why nothing is being done to find her. Remember to use simple language when talking to children about death to avoid making them even more confused and upset.
It's also a good idea to make sure that the parents of the children in your care know you will be talking about death in case children mention it to their families. This will help prepare parents to answer any remaining questions that children may have about death. For more information about helping children deal with grief and loss, read The Crisis Manual for Early Childhood Teachers. Be sure to also check out our "Helping Children Cope with Death and Loss" article for tips on how educators should respond to a death and a list of free resources and related products.