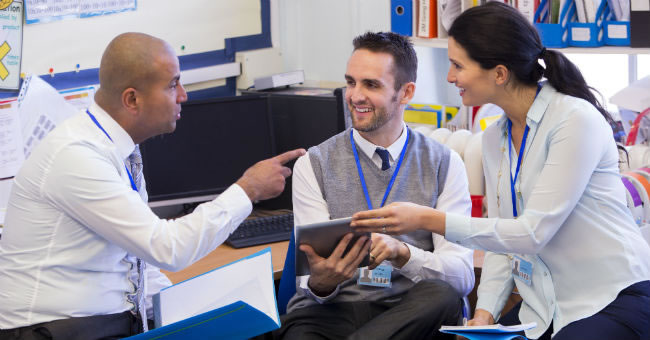 Educators are often resistant to change even when there is an urgent need for it because they are nervous to move away from the safety of the status quo. Oftentimes educators hold on to a "that's the way we've always done it" way of thinking, which prevents individuals and programs from advancing. As a school leader, it is important to encourage teachers to move past these feelings of uncertainty. Remind the teachers in your school to keep pushing forward because their work will prove to be rewarding.
Sometimes knowing how to create such an environment is challenging. Use the following eight transformational strategies to build a positive outlook on change in your educational work environment.
Create a Vision – A compelling vision guides the transformation process because it provides a definitive purpose and focus for the changes necessary to transform the future.
Infuse Positive Energy – Positivity is essential to creating and sustaining strengths-based learning communities where strong relationships flourish and attaining positive learning outcomes is possible.
Develop Purposeful Individual Professional Development Plans – Professional development plans, when completed through a collaborative process, create detailed and well-defined outlines as guidance for growth and positive change.
Engage in Continuous Quality Improvement – The objectives stated in program improvement plans guide leaders in how to prioritize their time, allocate resources, enhance curriculum, improve environments, strengthen instructional practices, and select meaningful professional development experiences.
Ignite Passion Through Engaged Leadership – Leaders who are passionate, intentional, and engaged will be able to facilitate the continuous quality improvements necessary to keep up with the new standards and initiatives crafted to improve child outcomes.
Facilitate Effective Professional Development – Incorporating new learner-centered paths to professional development will increase engagement and promote continuous growth and goal achievement.
Use Strengths-Based Coaching Techniques to Increase Engagement – Strengths-based coaching is a professional development activity that is relationship-based. It produces positive benefits and outcomes for teachers, administrators, children, and families.
Embrace Change: Let Go of the Status Quo – Understanding why it is so difficult to move beyond the status quo and why individuals and organizations are resistant to change are crucial tasks for leaders to facilitate transformations in their programs.
Studies show that there is an urgent need for change in early childhood education programs. There is a widening gap between educators' knowledge of the importance of all aspects of education and what is actually happening in programs. As an educational leader, it is important to begin working on embracing change yourself so the transformation can begin with you. To boost the quality of your educational program, let go of the status quo and begin embracing change by using the eight strategies above.
For more information about embracing change as a leader in early childhood, read MacDonald's Inspiring Early Childhood Leadership. You can also find other free tips in the Insights and Inspirations section of our website.