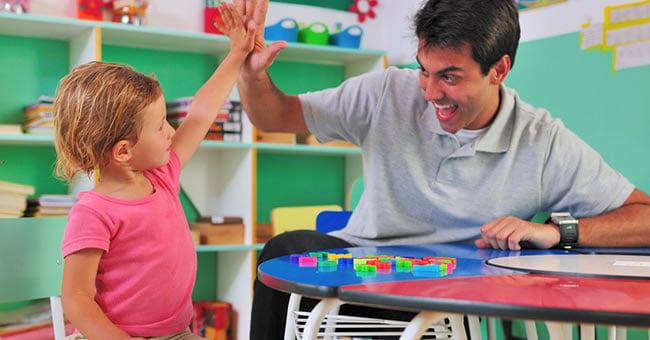 Acknowledging children by providing them with positive feedback and encouragement is a crucial part of social-emotional learning and development in early childhood education. Without proper feedback and encouragement, children won't develop the positive behaviors and social-emotional skills and traits they need (e.g., resilience, independence, self-esteem, respect, compassion, etc.) to be successful in school and in life.
Recognizing opportunities to acknowledge children can be difficult for teachers and caregivers, however, especially if they have a large number of children in their care or have children with behavioral problems. In (Almost) Everything You Need to Know About Early Childhood Education, Judy Fujawa lists ten opportunities for educators and caregivers to acknowledge children's efforts and positive behaviors:
When a child accomplishes something alone. Acknowledging children's individual successes (small or large) will encourage children to be independent and will help them develop a growth mindset.
When a child does better than his or her personal best. Acknowledging even the smallest growth will show children that their efforts to do better are being noticed and that hard work does pay off.
When a child shows courage and perseverance when tackling a challenge. Children will have to face all kinds of challenges throughout their lives, so it's important to foster resilience by acknowledging moments when children choose to not give up.
When a child accomplishes a self-help task (zipping a jacket, passing the serving bowl, brushing their teeth, etc.). Being able to zip their own jacket and complete other self-help tasks is important to children's overall development, so take time to acknowledge children's efforts and offer positive feedback and encouragement as they learn new skills.
When a child comforts or comes to the aid of a friend or classmate in need. Acknowledging children's good deeds will help them learn that compassion and empathy for others is an important part of having positive relationships with their friends and the important adults in their lives.
When a child completes a task or project. Be sure to offer feedback when children complete a task or project. Telling them what worked well and helping them understand what didn't work well will help them complete the task or project more efficiently the next time.
When a child shows creativity in their words or actions. Encouraging creativity at a young age is important, because creativity is often not as emphasized or encouraged in later years. Acknowledging children's creativity will help them continue to be creative as they solve problems and complete tasks.
When a child explores and follows through with an idea. Trying new things and following through with ideas will help children be more inquisitive learners, so make sure you take time to acknowledge and encourage exploration in the classroom.
When a child takes on a new responsibility. When children take on new responsibilities, it's important that you acknowledge their decisions and actions. This will encourage them to become more independent and will also help them in their development.
When a child leads by example. Children who lead by example will be better equipped to overcome challenges now and in the future, so take time to acknowledge and encourage children's leadership.
Whether it's with a sticker, a high five, or a few kind words, acknowledging all of the children in your care with positive feedback and encouragement is important to their overall development and success and to the classroom environment.