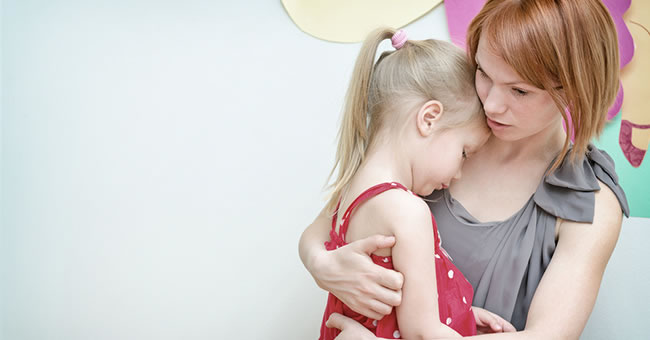 As an educator, it is inevitable that you will have to help children cope with death and loss at some point in your career. Depending on the age of the children in your care, they may struggle to understand what death means. No matter who or what dies, death will have an impact on children socially, mentally, emotionally, and in other aspects of their lives. Knowing strategies to help children cope with death and loss as they return to the classroom will help them better adjust as they go through the grieving process.
Kaplan Early Learning Company understands that children have different coping mechanisms, which is why we strive to provide you with quality resources and materials that will help all children eventually understand and accept the loss they experience. It's important that you take time to grieve in situations where you knew the deceased in some way, because addressing your own feelings and preparing appropriate responses means you can better help the children in your care when a death occurs. We hope you can use the following information, resources, and materials to help the children in your class work through the grieving process.
What You Can Do
Children cannot be sheltered from death and grief, so learning how to respond with the child, other children, and parents will only benefit you and the children in your care. The type of loss will also play a major factor in a child's grieving process and how you should help him or her cope. Children will react differently to the death of a family member or friend than they will to the death of a classmate, teacher, or pet. According to The Crisis Manual for Early Childhood Teachers, here are a few insights from child development that you need to understand as you help children cope with their loss:
Children understand death in progressive stages.

Young children (birth - 5 years) do not think of death as being final or inevitable, and they don't fully perceive the causes of death. Children in elementary school will likely accept the idea of a person dying, but they don't necessarily accept that death is inevitable for everyone. After the latter stages of elementary school, children should be able to fully understand death as being permanent and inevitable for themselves and everyone they know. Not moving, not breathing, not going to the bathroom, not hurting, not feeling, etc. are good ways to explain what death means, especially to younger children.

Children will react in different ways to death and will have different coping mechanisms as they grieve.

It's also important to remember that each child will have his or her own timetable in coping with death. Children often process their grief intermittently.

Children may worry about who will take care of them if their parents die.

A child will most likely ask the important adults in their life if they or another adult will die. "I don't expect to die for a long time," or "I don't think (person's name or relation to the child) expects to die for a long, long time," is a good response. Keep in mind that a child's separation anxiety is also likely to increase.

Children will likely feel guilt and responsibility.

Children's logic usually causes them to blame their actions or behavior as a cause for someone's death. They may also think that wishing something would happen, such as wishing someone could disappear, can cause someone to die. Be sure to reassure children that the person's death is not their fault.

Children are often very curious about death.

Don't be surprised if a child tries to dig up the body of a pet, because children are often curious about what happens to the body when someone dies. Young children will also ask lots of questions since they don't understand death.

Provide accurate information and use simple language when giving information.

Children should be told of a death as sensitively as possible, but that doesn't mean they should be given inaccurate or fabricated information. When telling children about a death, be sure to not use phrases that may confuse children. "We lost her" or "gone to heaven" are two examples of phrases you shouldn't use.
How Educators Should Respond to a Death
Knowing how to best respond when a death occurs can be difficult for educators. Preparing yourself to help before strong emotions are involved will help you come up with a cohesive plan to help the children in your care when needed. The Crisis Manual for Early Childhood Teachers lists a number of ways to respond with the affected child, the parents, and the other children in the class:
How to Respond with the Affected Child
Help the child feel secure by giving the child reminders that he or she is loved and by maintaining stability for the child.

Giving the child extra attention and encouraging him or her to express emotions are two other ways you can help children feel secure. Talking about death in appropriate contexts and answering questions are also great ways to respond.

Help the child address any feelings of guilt or responsibility.

Explain that the death was not caused by anything the child did, and find ways to tell him or her that thoughts and wishes don't make bad things happen to people.

Let the child know what to expect by explaining what will happen at the funeral or wake, what the child may see there, what people will say, and how people will act.

Be sure to ask the child's family if they want you to help with this before talking to the child about it.

Focus on feelings by acknowledging the child's feelings and emphasizing with the child.

Sharing your own feelings can help children express and share what they feel. It's also important that you let the child express his or her sorrow. Don't try to distract the child if they are crying. Try comforting them instead by telling them that it is okay to cry when he or she feels sad.

Help the child focus on happy memories.

Have the child write a letter to the deceased or make a book or scrapbook about the deceased. Asking the child about the enjoyable memories they have about the deceased is also a good way to focus on happy memories.
How to Respond with Parents and Family Members
Ask the family to tell you about the circumstances surrounding the death.

Understanding what the child experienced and what they were told can help you respond appropriately.

Support the family by attending the funeral or wake.

Even if you didn't know the person, attending the service will show the child you care. You may even want to offer to help with the child during the service.

Give the family the contact information of agencies that provide grief counseling or other types of support.

Local hospice organizations often provide grief counseling after a death. Talking to a private therapist can also be beneficial to the child. If the child is naturally shy or enjoys being around dogs, encourage families to find a private therapist that utilizes a therapy dog in their counseling.
How to Respond with Other Children in the Class
Talk about death before it happens.

Include discussions about what death means in your lesson plans. Talking about death before children encounter death at a personal level can help prepare children and help them better cope as they go through the grieving process.

Read children's books about death and coping with grief.

Reading and discussing these books can promote understanding and bring the concept of death into children's awareness if they have not yet experienced a death in their family.

Take nature walks and help children understand how things decay.

Helping children understand what happens to a body after death will answer some of their questions and help them understand the finality of death. Pointing out a dead bird or animal from a distance during a nature walk can also help children understand death.
Providing a stable environment for the child and reassuring the child that you are there if they need to talk are two of the best ways to show you care. It's also important for you to remember to speak of anyone (or anything) who has died with sadness and/or respect. For more information about helping children cope with death and loss, check out The Crisis Manual for Early Childhood Teachers.