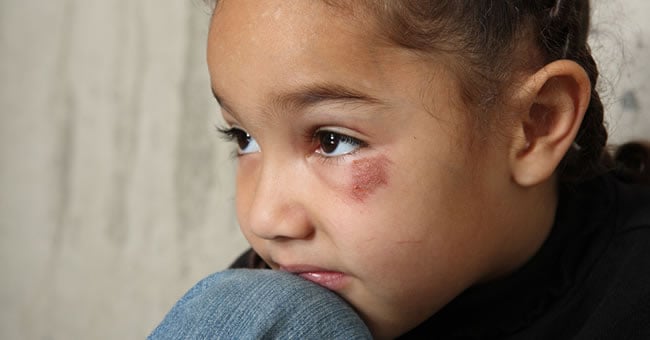 A recent study found that 1 in 8 U.S. children will experience abuse or neglect that is serious enough to be officially confirmed by the government by the time they are 18 years old. If you teach a class of 24 students, that statistic means 3 of those children are currently experiencing or will experience harmful abuse or neglect by the time they are an adult. This is a sobering statistic for anyone who cares for or works with children. The continued prevalence of child abuse and neglect in the United States makes many people question what can be done to better prevent and respond to cases of child abuse.
At Kaplan Early Learning Company, we strive to provide you with quality resources and materials that will help you appropriately respond to suspected and confirmed child abuse cases. Whether you're a teacher, principal, or other ECE professional, understanding the different types of abuse and knowing what to look for and who to contact can help victims of child abuse escape those situations and feel more comfortable at school. Please browse our free information, resources, and related materials below for more information about child abuse and neglect.
What You Can Do
Before you can properly address the issue of child abuse, you need to understand the different types of abuse that occur. A child that experiences one type of abuse is likely to experience other types as well. There are currently four types of abuse children may experience:
Physical Abuse - Personal injuries that result from hitting, punching, burning, and any other way to physically harm a child (intentional or not). Physical abuse injuries can range from bruises and broken bones to death.
Sexual Abuse - Contact or interaction between an adult and child that is sexual in nature.
Emotional Abuse - Words or actions that negatively affect how children think of themselves. People who emotionally abuse children try to bring them down by doing things such as humiliating, shaming, and criticizing them.
Neglect - The failure of a parent or caretaker to provide for the needs of children to the point where children's safety and health are in danger.
Be sure to check federal and state policies and definitions to ensure that you know what constitutes child abuse and neglect in your specific school or center.
Remember that all four types of abuse can range in severity and cause a variety of consequences for abused children. You may not even know children are abused in some cases. Also keep in mind that some types of abuse can be difficult to prove, especially if you're trying to address child abuse as an individual. The Crisis Manual for Early Childhood Teachers describes child abuse as a 'community problem which requires a community response to support families, so they will stop their abusive ways of handling stress and solving problems.' Even though child abuse requires a community response, educators and early childhood professionals play a vital role in responding to child abuse.
Preparation is Key
One of the best ways you can respond to child abuse cases is by preparing yourself and other staff members to appropriately respond:
Regular trainings should be held to help educators recognize all types of child abuse.
Reading about child abuse laws in your state and finding out everything you need to know to report abuse (i.e., who should report, who to contact, what needs to be reported, and the type of information needed) should also be a priority. Your state or local law enforcement agencies, Department of Child Protective Services, Department of Social Services, and other similar organizations are all places that can help you respond to child abuse and neglect.
Ask representatives from child abuse agencies to come speak on what happens when a report is filed and the procedures that follow.
Knowing the appropriate actions to take when you suspect child abuse can make the response more effective and help ensure that you don't do anything to jeopardize any evidence of child abuse.
Appropriate Responses to Child Abuse and Neglect
How you respond to a suspected or confirmed case of child abuse and neglect can influence whether or not a child gets the help they need. Your response can also affect how an abused child will recover from their traumatic and painful experience. To help increase the likelihood of a positive outcome, here are a few tips for you to remember when responding to child abuse and neglect:
Report suspected child abuse immediately. As long as you have a sufficient reason to make a report, you are legally protected and cannot be sued. Be sure to give the person or agency you make the report to as much information as possible.
Do not act shocked or disgusted if a child reveals something about his or her abuse to you. Children are inclined to think that you are responding that way because of them, which can have a major impact on their healing and recovery.
Be supportive in your response and let the child know it is not his or her fault. Also remember that you can't promise not to tell since you're legally required to report any suspicion. The Crisis Manual for Early Childhood Teachers suggests the following response: 'I'm glad you told me. You did the right thing. I'm sorry this happened to you.'
Make sure children who are abused have plenty of ways to express themselves. Drawing, painting, and writing are all excellent creative outlets for children to express their thoughts and feelings about what happened to them.
Treat all children with kindness, respect, and empathy. This will help you build positive relationships with children and will also show abused children that a person does not have to use violence or humiliation in their interactions with others.
For more information about these and other responses, check out The Crisis Manual for Early Childhood Teachers and The Neglected Child. Both books are great resources to help you understand, prevent, and respond to child abuse and neglect.