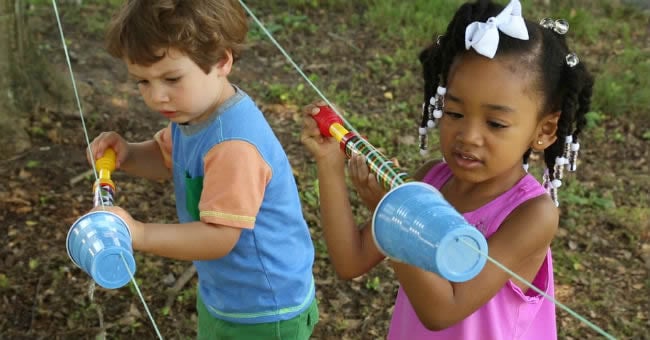 Beat the summer heat with an exciting outdoor water cup race! The summer heat can make it hard to get children outside to play, but water play activities are a great way to get them outside and keep everyone safe in the heat. With the Water Cup Racers Activity, you'll create an "obstacle course" with materials from around the house and encourage children to problem solve in order to race their water cup across the course. This fun outdoor activity will keep children entertained and cool during the summer!
How does the Water Cup Racers Activity encourage child development?
The Water Cup Racers Activity allows for multiple developmental skills to be exercised. Children will use hand-eye coordination when aiming their water squirter at the cup, and they'll also practice problem solving when figuring out the most efficient way to move their cup along the string. Lastly, they'll work on developing their fine motor skills as they learn to operate their water squirter.
Why is it important to keep children engaged over summer break?
Children need to stay active and involved in hands-on learning activities to prevent summer learning loss over the course of their summer break. Children often lose some of the valuable skills they learned during the school year when they are not exercising them. Through fun activities such as the Water Cup Racers Activity, children will stay engaged and better retain the information and skills they learned in school.
Download our FREE printable below!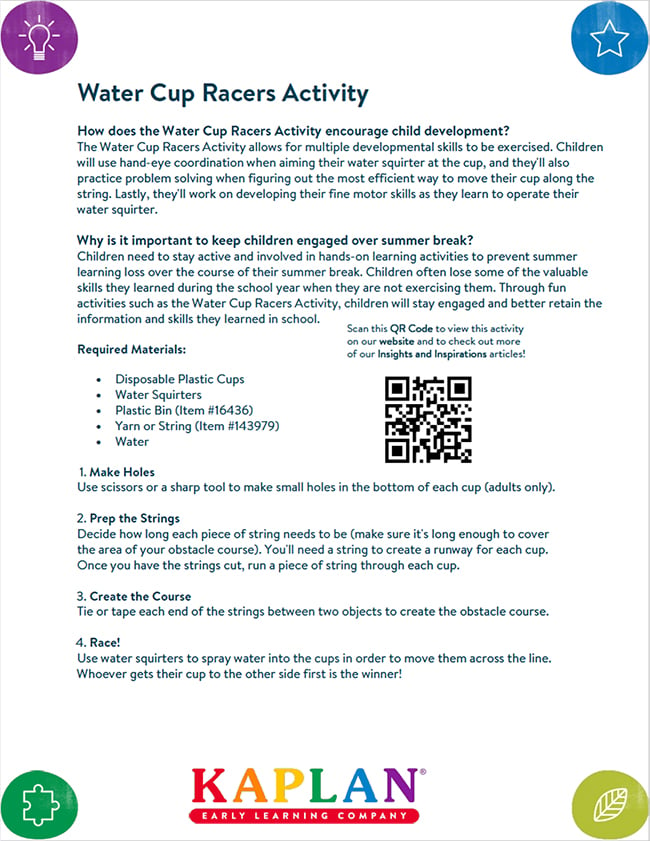 Required Materials:
Disposable Plastic Cups
Water Squirters
Water
1
Make Holes
Use scissors or a sharp tool to make small holes in the bottom of each cup (adults only).
2
Prep the Strings
Decide how long each piece of string needs to be (make sure it's long enough to cover the area of your obstacle course). You'll need a string to create a runway for each cup. Once you have the strings cut, run a piece of string through each cup.
3
Create the Course
Tie or tape each end of the strings between two objects to create the obstacle course.
4
Race!
Use water squirters to spray water into the cups in order to move them across the line. Whoever gets their cup to the other side first is the winner!
For other activities and materials you can use to stay cool and have fun during the summer months, browse our selection of sand and water tables and water accessories.