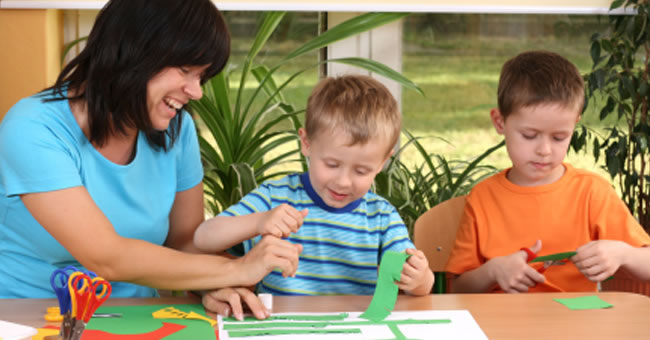 Looking for ways to bring nature indoors for the children in your care? Natural elements can create visual interest in the classroom, spark children's imagination and curiosity, and play a vital role in the learning process. "Incorporating natural elements inside the four walls of your classroom can effortlessly transport children into a world of beauty. Not only does nature provide an infinite supply of sensory experiences that can be integrated into all learning domains, it conveys a sense of calmness and tranquility for both children and adults," explain the authors of Inspiring Spaces for Young Children.
Ideas for Natural Elements You Can Use in the Classroom
Here are some examples from Inspiring Spaces for Young Children of natural elements you can use in your classroom design and setup:
Meadow – flower petals, pressed fern, pumpkins, corn husks, dried corn, lentils, wheat, grasses, oats, plants, cattails, gourds
Textiles – bristle brushes, leather, fur, raw cotton
Water – driftwood, seashells, sea fans, coral, sea glass, cattails, sandstone, river rock, sea sponges, sand, seaweed, tabletop water fountains
Minerals – gemstones, granite, fossils, marble, sandstone
Items Made from Natural Materials – cork tiles, barn siding, rice paper, pottery, glass beads, parchment paper, stone tiles, pasta, potpourri, wood floors or doors, sea grass rugs, cloths (silk, cotton, wool), wicker baskets, twine
Metals – steel, brass, aluminum, copper
Woods – tree branches and twigs, pine cones, pine needles, nuts, magnolia pods, coconuts, leaves, bamboo, tree stumps, eucalyptus, pussy willows, tree bark, tree "cookies" (slices of tree trunk), dried berries and herbs, petrified wood, moss, ferns, fossils
Helping Children Explore Nature with Their Senses
Once you have an idea of what natural elements you want to incorporate into your classroom, figuring out how you can use those elements to promote learning is the next step. From the authors of Inspiring Spaces for Young Children, here are a few ways can help children explore nature in the classroom:
Sift sand and pebbles
Make nature imprints in clay
Create rubbings from bark
Match food scents with flavors
Peel and smell oranges or lemons
Categorize sea shells by shape or color
Count tree rings to determine age
Write with tree twigs in the sand
Listen to nature soundtracks
Crunch dried leaves
For more information on using natural elements in your classroom, read Inspiring Spaces for Young Children or check out some of the Classroom Setup articles in our Insights and Inspirations section.