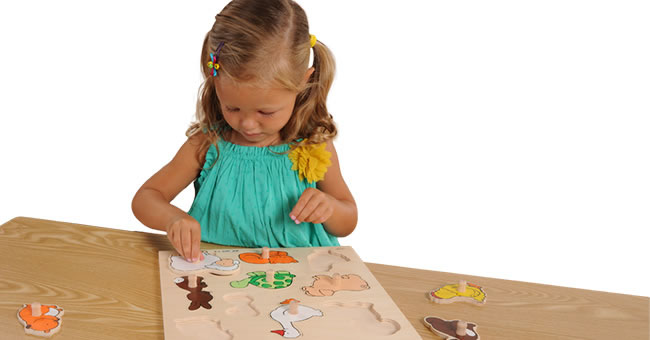 Puzzles are engaging comprehensive learning tools that can help children of all ages learn skills in critical thinking and problem solving. They can also reinforce what children are learning in class and help them strengthen their fine motor skills. The variety of puzzles available is also a plus. From peg puzzles about animals to floor puzzles about the United States, children can find a puzzle that interests and challenges them.
The wide variety of puzzles available can make selecting age-appropriate puzzles for your classroom difficult, however. Here are a few things you need to keep in mind as you look for new puzzles to add to your classroom collection:
Offer various types of puzzles.

Knob and peg puzzles are great for young children who are starting to develop their fine motor skills or for children of any age who struggle with their fine motor abilities. Jigsaw puzzles and wooden puzzles are often suitable for children of all ages, and 3-D puzzles, puzzle models, and larger floor puzzles are all great options for older children. Most puzzles will have a recommended age range, so just make sure the puzzles you pick for your classroom are age appropriate for the children in your care.

Offer puzzles that are age appropriate but range in difficulty and content.

The puzzles available in your classroom should meet the developmental needs of each child in your care, but they should also be challenging for children. Provide a variety of puzzles that range in number of pieces, difficulty, and content. Puzzles can feature content about animals, outer space, lifecycles, bugs, math, dinosaurs, history, famous artists, and many more topics. Make sure the content of the puzzles you pick is relevant and interesting for the children in your care.

Set puzzles up in a way that allows children to use them independently.

Use puzzle racks and cases to store puzzles. Set them up in an area of the classroom that enables children to choose which puzzle they want from the rack and then put it back when they're finished. Make sure you establish rules for using puzzles. Having to put a puzzle back before getting another one and only playing with one puzzle at a time are two rules that would be good to implement in your classroom.

Rotate puzzles periodically to keep children interested and engaged.

Keep a large selection of puzzles on hand, but only put out about 10-15 puzzles for children to choose from. This will allow you to rotate puzzles periodically for versatility, which will help keep children engaged and interested in playing with the puzzles available. Remember to offer an assortment of both table and floor puzzles that range in content and difficulty to maximize children's interest and engagement.
To see the various puzzles and puzzle sets available for your classroom, browse through our selection of puzzles and games.