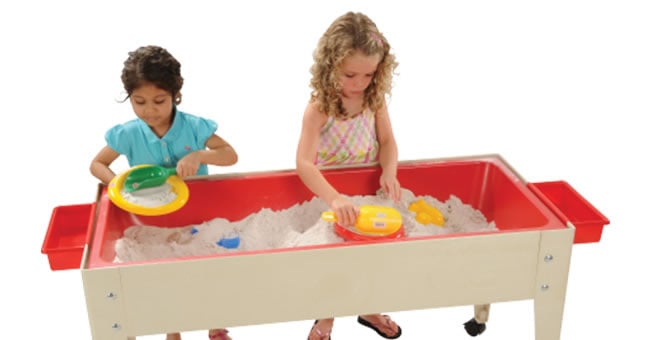 Children are often drawn to sand and water tables due to the fun learning experiences that they support, which is why choosing the right sand and water table for your students is important. Having a sand and water table in your classroom can help children learn to work together, develop their fine motor skills, and increase their communication and problem-solving skills. You want to make sure that the sand and water table you have in your classroom retains children's interest and capitalizes on all available learning opportunities.
A sand and water table can be a long-term investment for your classroom, so here are a few questions you should consider when you are looking for a new sand and water table for students to enjoy:
How old are the students in your class? Do you need a sand and water table specifically for infants and toddlers?
What size table will best fit in the space?
Is the table sturdy and durable? Do you think it can withstand daily or weekly use by students?
Does the sand and water table come with a lid?
Does the price fit within your budget?
Does the table need to have individual stations or two tubs instead of one?
Does the table need to be easy to transport?
Is the table going to be easy to clean? Can you find a sensory mat to place underneath it?
Does the table support multiple uses and learning opportunities?
What accessories and learning materials do you want to use with the table?
By considering your answers to these questions and deciding which factors are the most important, you can choose a quality sand and water table that is just right for your students and your classroom space. Be sure to browse our sand and water section for a variety of sand and water tables, play sets, and accessories. How to Set Up Your Preschool Sand & Water Learning Center is another great resource that can help you pick the right sand and water table.