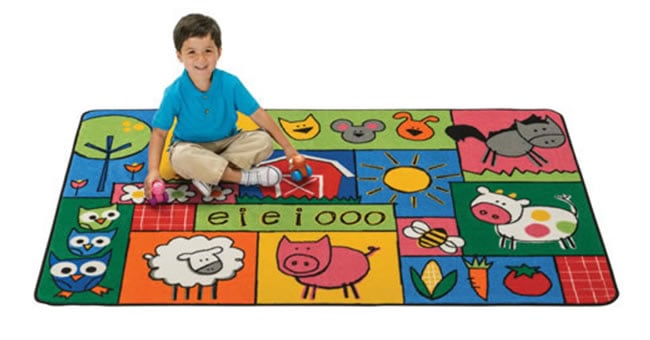 Educational carpets and area rugs can help brighten your classroom or child care center and make the space more welcoming and comfortable to children. They can also help children learn basic skills in a variety of subjects, including literacy, math, science, and social studies among others. Picking out a carpet or rug for your classroom may seem easy, but making a final selection can be difficult due to the various designs and shapes available. To help you narrow down your choices and pick the right carpet or rug for your space, we've come up with a list of factors you should consider before making your final selection:
1. Size
Do you need a carpet to cover a large area of the classroom for circle time or other group activities? Or are you looking for a smaller rug to place in a section of the classroom? Be sure to measure the space so you know which size rug or carpet will fit.
2. Shape
Carpets and rugs come in a variety of shapes, including squares, rectangles, ovals, circles, and semi-circles. Which do you think would work best in your space? Individual preference and the design you choose for the carpet or rug will be the biggest factors affecting this choice. All of the aforementioned shapes would work well in any space as long as the carpet or rug is appropriately sized.
3. Design
Do you want a carpet or rug with a solid color? Or are you looking for one with a vibrant and bright design? The type of design that best fits your need will depend largely on the function of the carpet or rug. Alphabet and number blocks, a map of the United States, a multiplication table, bilingual numbers, shapes, and motivational quotes are just a few of the designs you can choose from.
4. Function
What will be the purpose of the carpet or rug? Do you want the carpet or rug to be an accent piece, a learning tool, and/or a comfortable place for children to play and sit? Make sure you pick a design that facilitates the carpet or rug's function in the space.
5. Safety
Are there any rules or regulations about carpets or rugs you need to meet? Check product descriptions to see if they are anti-flammable or have slip-proof backing. Try to place carpets and rugs out of the way of high-traffic areas to help prevent accidental injuries. You may also want to look for carpets and rugs that are stain resistant, anti-bacterial, or have a warranty.
Be sure to browse our selection of carpets and rugs to see the variety of designs available and pick the perfect one for your space!