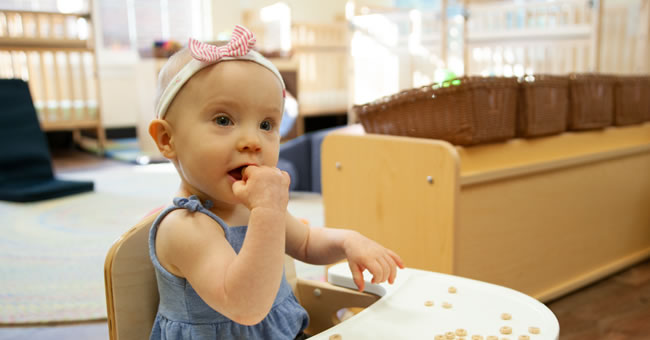 As any educator or child care professional knows, finding the right balance of color, décor, and furniture to create a calming environment for children isn't as easy as it sounds. Early childhood classrooms usually have a variety of primary colors on their walls, which can be distracting for many children. Researchers recently studied children's ability to focus in a variety of visual environments and reported that "children were more distracted by the visual environment, spent more time off task, and demonstrated smaller learning gains when the walls were highly decorated than when the decorations were removed."
If your classroom has too much visual clutter, the space will become visually chaotic and won't provide the necessary white space required to help children's minds relax. The authors of Inspiring Spaces for Young Children recommend the following as a general rule to use when determining if your classroom has too many primary colors: "If you cannot see at least 75% of the walls and the majority you see (other than children's work) are brightly colored, you may have visual clutter."
One way you can make the space less visually chaotic is by replacing bright colors with natural colors. Natural colors (white, khaki, tan, brown, and other colors found in nature) are great to use on walls and larger items since they go well together and can be paired with splashes of bright, trendy colors. Painting larger items a natural color also reduces the chances of having to spend more money on paint and other supplies since natural colors never go out of style.
Using mainly natural colors doesn't mean the space is going to be boring. Bringing in splashes of bright colors can help you draw attention to certain items or areas of the classroom, and inexpensive décor items, such as pillows, rugs, and artwork, can be switched out when needed. Decorating classrooms with natural colors also allows you to look to nature for inspiration on the colors you want to bring into the space.
A tree that has yellow and orange flowers growing near its base is a great example. You could use brown or tan as the main color with splashes of yellow and orange as accent colors. Remember that accent colors can generate interest and attract children to a specific area while also defining spaces. A general rule in Inspiring Spaces for Young Children is to use no more than three coordinating colors when defining a space to ensure that you don't use too much color.
You can take the nature concept a step further by adding furniture, décor, class materials, and storage items that are from nature or resemble something found in nature. Pinecones and rocks are great additions to a sensory table or science learning center, and wicker baskets and pieces of furniture that have a natural wood finish are all great additions to the space. For more information about decorating classrooms with natural colors and other design ideas, read Inspiring Spaces for Young Children and check out our other Insights and Inspirations.
Photo Credit: Jessica DeViney