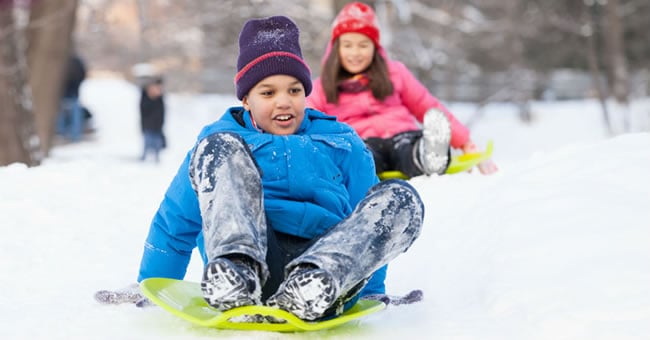 Are you ready for some snow day fun? Whether you live somewhere that constantly has snow on the ground or somewhere that only gets a few snows a year, having a list of fun things to do in the snow will help you know what to do on a snow day with your students and/or your own children. Here are a few exciting ideas for things to do on a snow day:
1. Host a Sled Race
Sledding is a major component of having fun on a snow day. Take your students (or your own children) to a nearby hill that is safe for sledding and host a sled race! This is a great opportunity for children to work individually or in teams to have the fastest sled. Encourage them to think of ways they can make their sleds go faster. Does location at the top of the hill matter? Is there a better way they can push off to allow for a faster sledding time?
Don't have a sled on hand? Try making a DIY sled by choosing a plastic storage container lid and spraying PAM on the bottom of it.
2. Make Snow Cones
Put a bucket outside to collect clean snow while it's snowing or send kids out to collect cups of clean snow. Once each child has a cup of snow, help them add a little Kool–Aid or juice over the top to make snow cones. Be sure to have several flavors available to choose from.
3. Build a Snow Fort
Building a snow fort or castle should also be part of your snow day activities. Your students and/or children can use our sand and water accessories to create their own snow structures. Make sure you take pictures of children's creations to share with parents or put in a photo album!
4. Paint the Snow
A fresh blanket of snow provides a blank canvas for children to create art outdoors. Whether you're looking for simple snow day activities for toddlers or fun snow day crafts to do with older children, children of all ages will enjoy using tempera paint, food coloring, or Kool-Aid to make snow art. Check out this activity from The GIANT Encyclopedia of Monthly Activities:
Materials:
Powdered tempera paint
Empty salt and pepper shakers (or something similar)
Paper
Bowl or bucket
Snow (or crushed ice)
Paper towels or cloth towels
Directions
Put powdered tempera paint into the shakers.
Give each child a piece of paper and bowl of snow or crushed ice. (If the weather permits, let them collect their own.)
Let each child decide if he or she wants to sprinkle the paint first or put the snow on the paper first.
If a child chooses to add paint first, have him or her put snow on top of it. If a child chooses to put the snow on the paper first, have him or her sprinkle it with tempera.
Place the paper in a warm area on top of towels and watch the snow melt.
Observe to see if there is a different effect between the children who did paint first and those who did snow first.
5. Play Snowball Hula
Children love to make and throw snowballs when it snows. Instead of having a snowball fight, try playing Snowball Hula, featured in the The GIANT Encyclopedia of Monthly Activities with children.
Materials:
Directions:
Stand the hula hoops a couple feet apart against an outside wall of the school building.
Demonstrate for the children how to throw a snowball at one of the hula hoops, aiming the snowball at the inside of the hula hoop.
Line up the children in a row so that several can throw snowballs at the same time.
Vary the level of difficulty by having the children throw the snowballs from four feet, eight feet, and 10 feet from the hula hoops.