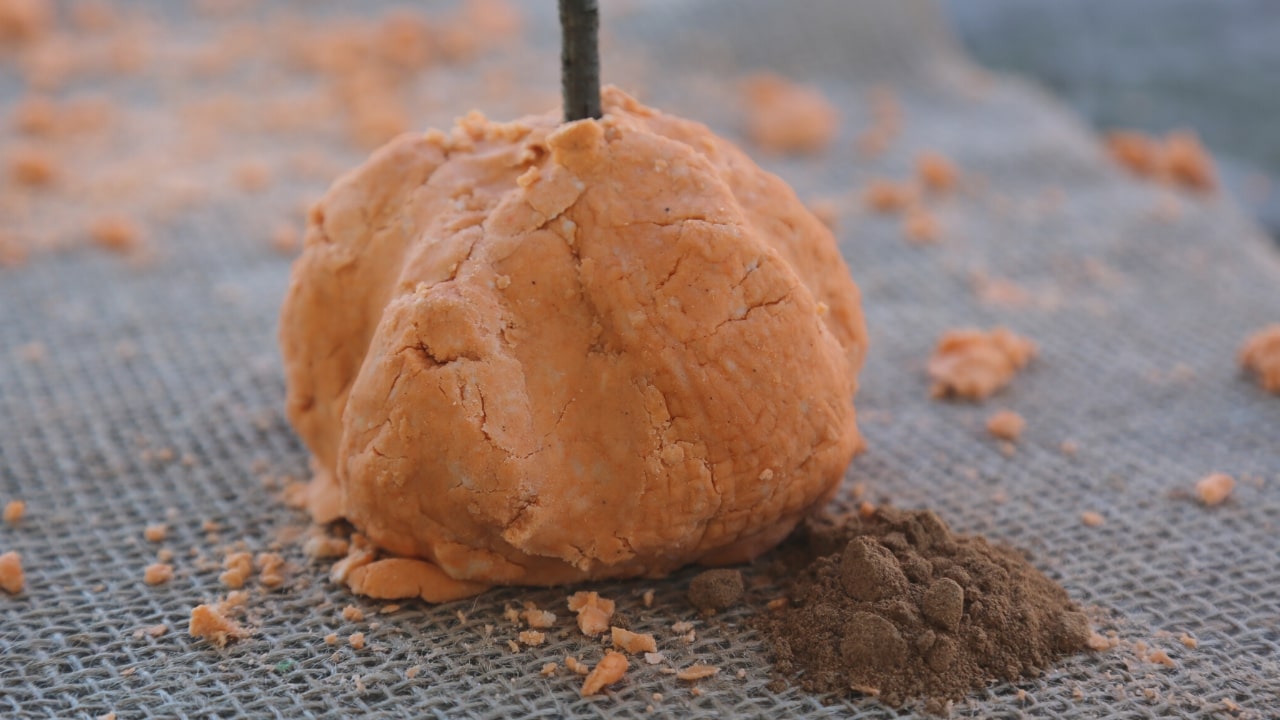 The holidays are right around the corner and the best way to transition from the fall season to the holiday season is with Pumpkin Pie Cloud Dough! Pumpkins are iconic symbols for both fall and the holiday season. With Pumpkin Pie Cloud Dough, kids will be able to engage in sensory-based learning while reveling in the joyous atmosphere that only the holidays can provide.
What Is Pumpkin Pie Cloud Dough?
The Pumpkin Pie Cloud Dough activity takes the basic ingredients of flour and oil to create a moldable dough that kids will play with until their imagination is satisfied. By mixing in orange powdered tempera paint and pumpkin pie spice, the dough will take on the scent and appearance of a pumpkin, which adds a layer of familiarity and seasonal relevance to the sensory explorations kids will partake in. Although the Pumpkin Pie Cloud Dough is not edible, it is a great way to take a concept kids may have recently become familiar with (through sweet treats like pumpkin pie) and use it to foster education!
How Can I Use This in My Lesson Plan?
Pumpkin Pie Cloud Dough can be used to promote learning in a variety of ways. With proper adult supervision, kids can participate in creating the dough. Having kids help measure the ingredients is a way of incorporating math into the activity in a fun and unique way! You can even introduce early scientific themes by having kids make predictions about what will happen when new ingredients are added into the mix and keep track of the results.
After the Pumpkin Pie Cloud Dough is formed and ready to play with, kids will be able to enhance their cognitive skills by engaging with their senses of touch, sight, and smell in an interactive manner. This hands-on experience will allow kids to foster creativity while discovering new ideas through their senses. Sensory play activities such as this have been linked to improvements in problem solving, critical thinking, social learning, and motor skills in young children, making Pumpkin Pie Cloud Dough the perfect activity for kids to learn and grow!
Download our FREE printable below!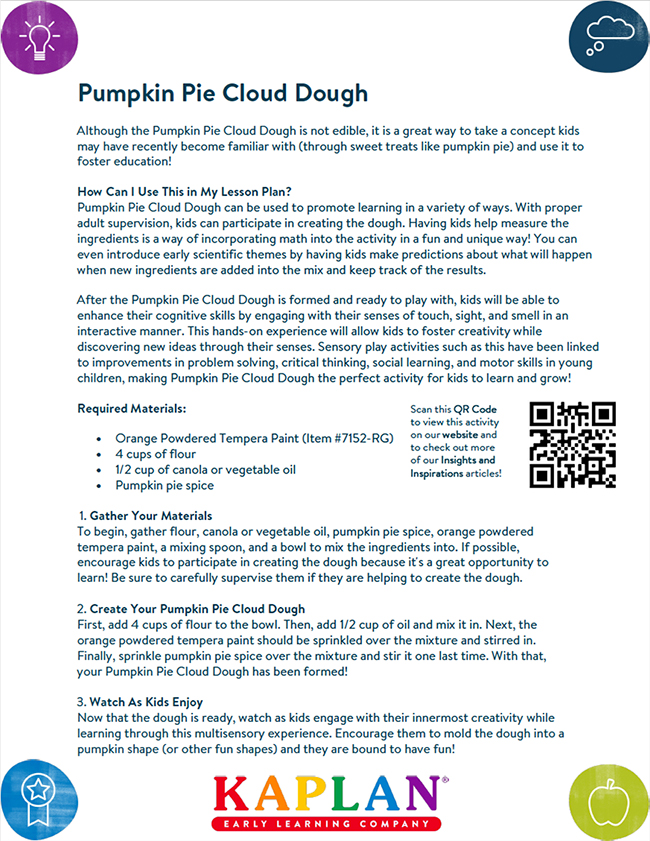 Required Materials:
4 cups of flour
1/2 cup of canola or vegetable oil
Pumpkin pie spice
1
Gather Your Materials
To begin, gather flour, canola or vegetable oil, pumpkin pie spice, orange powdered tempera paint, a mixing spoon, and a bowl to mix the ingredients into. If possible, encourage kids to participate in creating the dough because it's a great opportunity to learn! Be sure to carefully supervise them if they are helping to create the dough.
2
Create Your Pumpkin Pie Cloud Dough
First, add 4 cups of flour to the bowl. Then, add 1/2 cup of oil and mix it in. Next, the orange powdered tempera paint should be sprinkled over the mixture and stirred in. Finally, sprinkle pumpkin pie spice over the mixture and stir it one last time. With that, your Pumpkin Pie Cloud Dough has been formed!
3
Watch As Kids Enjoy
Now that the dough is ready, watch as kids engage with their innermost creativity while learning through this multisensory experience. Encourage them to mold the dough into a pumpkin shape (or other fun shapes) and they are bound to have fun!
Ring in the holiday season with this activity and others like it! Browse our selection of related seasonal resources to welcome warm wishes and start planning creative activities and crafts for your classroom.