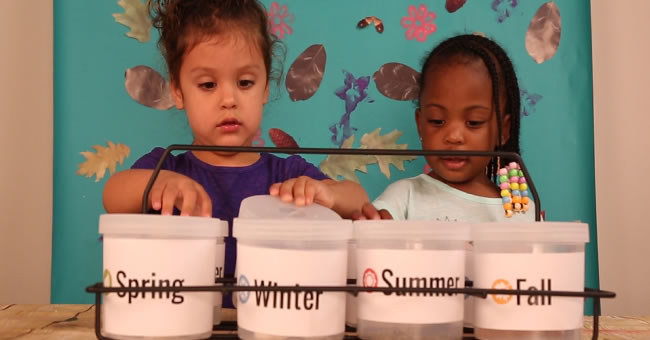 Children will be enchanted by smells of fall, winter, spring, and summer as they explore and identify the seasons through their senses. These season sensory spices activities provide creative and engaging ways to introduce the four seasons through multisensory experiences. The Season Spice Bottles are mess-free DIY sensory bottles that will delight the senses as children try to match the smell with the season. Teachers can include these spices in the art learning center by mixing the spices into powdered tempera paint to create Season Spice Paintings. Budding artists will be thrilled to infuse their work with brilliant smells from every season. Both activities offer opportunities for early educators to introduce new vocabulary words, such as basil, cinnamon, peppermint, and lavender, as children enjoy learning through their senses with the two activities featured below.
Download our FREE printable below!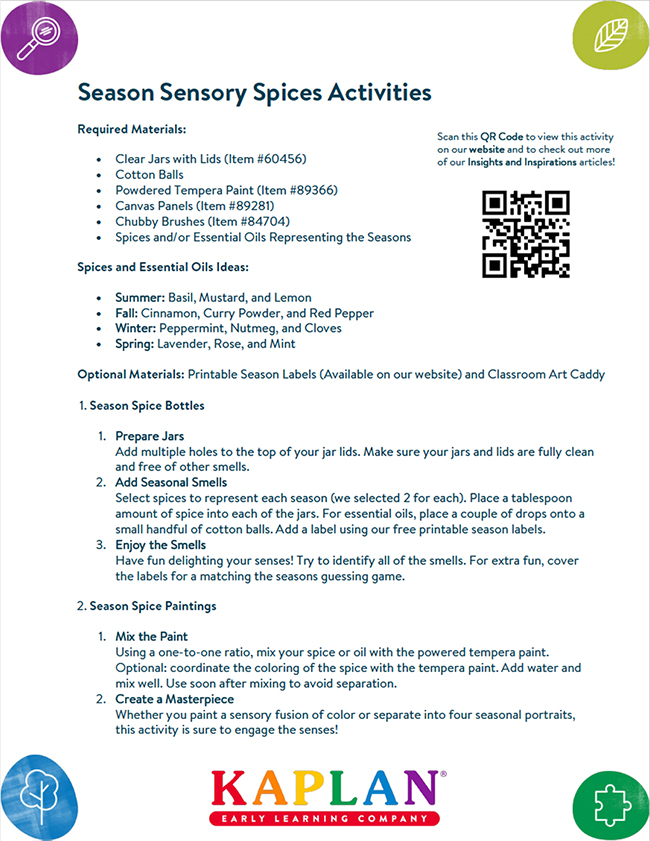 Required Materials:
Cotton Balls
Spices and/or Essential Oils Representing the Seasons
Spices and Essential Oils Ideas:
Summer: Basil, Mustard, and Lemon
Fall: Cinnamon, Curry Powder, and Red Pepper
Winter: Peppermint, Nutmeg, and Cloves
Spring: Lavender, Rose, and Mint
Optional Materials:
1
Season Spice Bottles
Prepare Jars
Add multiple holes to the top of your jar lids. Make sure your jars and lids are fully clean and free of other smells.
Add Seasonal Smells
Select spices to represent each season (we selected 2 for each). Place a tablespoon amount of spice into each of the jars. For essential oils, place a couple of drops onto a small handful of cotton balls. Add a label using our free printable season labels.
Enjoy the Smells
Have fun delighting your senses! Try to identify all of the smells. For extra fun, cover the labels for a matching the seasons guessing game.
2
Season Spice Paintings
Mix the Paint
Using a one-to-one ratio, mix your spice or oil with the powered tempera paint. Optional: coordinate the coloring of the spice with the tempera paint. Add water and mix well. Use soon after mixing to avoid separation.
Create a Masterpiece
Whether you paint a sensory fusion of color or separate into four seasonal portraits, this activity is sure to engage the senses!
Include these two season sensory spice activities in your classroom to provide children with fun and creative opportunities for multisensory learning experiences.
Be sure to browse our list of sensory-related products, resources, and professional development.