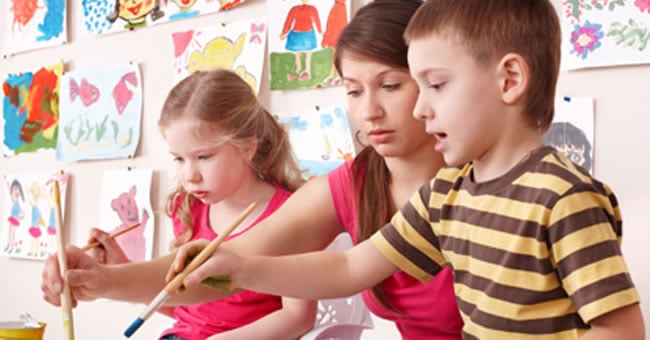 Painting is a favorite art activity for many children, and it serves as a great learning experience in early childhood classrooms. Painting encourages creativity and self-expression and helps children develop fine motor skills. As you plan art projects and painting activities, it's important for you to think about the types of paint brushes you want children to use. Providing the right selection of paint brushes can help extend children's creativity and add additional learning opportunities. Here are a few questions to consider as you select paint brushes for your classroom:
What are the ages of the children in your care? What are their fine motor abilities?
Since they are still developing their fine motor skills, young children (older infants, toddlers, and twos) generally need brushes that have large handles and are easy to grasp. As children reach preschool age, you can start introducing smaller brushes that require greater use of children's small muscles.
How will the brushes be used in the classroom? What kind of paint will you be providing?
Some brushes are made specifically for a certain type of paint. For example, you'll want to make sure that you have watercolor brushes available for children to use if you're planning a lot of watercolor art activities. Make sure both the paint and paint brushes you provide are age appropriate and safe for children to use.
There are a variety of paint brushes available–chubby brushes, fabric brushes, easy-grip brushes, floppy brushes, watercolor brushes, and foam brushes are just a few examples. Stick to larger brushes when children are younger, but remember to provide a variety of brushes once they have stronger fine motor abilities. Remember, brushes in different shapes, designs, sizes, and textures give children opportunities to explore which brushes will help them create a certain pattern or look.
Be sure to browse our selection of paint brushes and art supplies for a variety of fun art materials you can include your classroom.