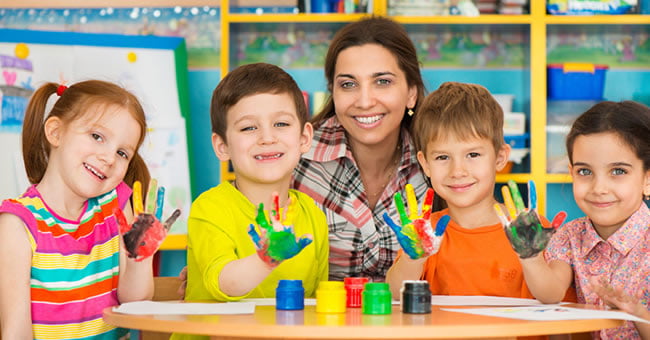 Whether done independently or as a group activity, working on an art project is a favorite learning experience for many children. Having an art station as one of the learning centers in your classroom or child care facility is important, because art helps children learn about self-expression and creativity. Art projects are also a good way for children to develop fine motor skills and improve their hand-eye coordination.
Learning centers are an integral part of the preschool classroom, but setting them up and keeping them stocked with the right materials can be tricky, especially if you're working with a small space. Here are five steps that detail how to set up a preschool art learning center that's just right for your classroom or facility:
1. Decide on the Size and Location of Your Art Center
The first step in setting up your art center is to determine its size and location. Base your decision on how big the room is, how many other learning centers you're planning, and the number of children in your care. How many children you want to be in the learning center at one time will also influence your decision. Keep in mind that learning centers should accommodate at least two children at a time, but space for 3-4 children is better.
Place your art learning center near a sink if possible - this will make hand washing and clean up more convenient. An art learning center can be quiet or noisy depending on the activity and the children stationed there. Consider locating your art center next to other learning centers that vary in noise level, such as the literacy learning center, technology learning center, or math and manipulatives learning center.
Be sure to check out How to Plan a Great Classroom Layout (Preschool Edition) and our Floorplanner tool for additional assistance in planning the best layout for your classroom.
2. Pick Out the Appropriate Furniture for Your Space
Easels and/or tables and chairs are needed in your art learning center to help kids work comfortably. Whether you choose to use one or both types of furniture will depend on the size of the art center. Tables should have easy-to-clean work surfaces and chairs should be height appropriate for the children in your care. Double-sided easels are a great choice for small art centers, but tabletop easels are easy solutions if you'd like to have a more multi-functional space.
Be sure to leave room for storage cabinets to safely store paints and other materials kids should not be able to easily access. A drying rack is another good furniture addition to your art space, especially if kids are going to be painting frequently. You can also use a bulletin board room divider to display children's art work at a height level they can easily see.
3. Facilitate Easy Clean Up with Splash Mats and Aprons
No one wants to spend time trying to clean glitter, glue, or paint off of the classroom floor. Remember that having a designated area for arts and crafts with splash mats and/or art trays in place can help prevent a major mess. Use splash mats under easels and other furniture or place it on top of tables to better protect surfaces.
Aprons are another necessity for art learning centers. Be sure to choose aprons that are easy to clean and are the correct size for the children in your care. Aprons are available in toddler, preschool, primary, and adult sizes. Also consider whether sleeveless or sleeve aprons would be best for your art center.
4. Find Convenient Art Storage Solutions
There are a variety of art supplies available, so it's important that the materials you choose for your art center are organized and placed in appropriate storage containers. Art caddies, scissor racks, and art tubs are great storage solutions for materials that children need to easily access.
If your art center is small or you have to share art supplies between classrooms, a rolling art cart can give you extra storage and help you keep everything organized and mobile. A paper center with a child-safe cutter can help you keep paper in one area of the center and will also enable you to have a variety of paper lengths available for children to use.
5. Choose a Variety of Art Materials and Tools for Children to Use
You should offer a variety of diverse art materials based on different levels of ability in your classroom's art center. Keep in mind that some of the materials and projects should relate to other topics or experiences happening in class. Whether children are making a craft, drawing, or painting, the following suggested art materials and tools will help you supply your art center:
Suggested Art Materials and Tools
Brushes, Crayons, & Markers - Brushes, crayons, and markers are important materials to have in any art center. Remember that large easy-grip paint brushes are easier for younger children to grasp and use.
Chalk Materials - Take art activities outside with fun chalk materials or use chalk on chalkboards indoors. Children will love using sidewalk chalk and paint to create colorful works of art.
Clay, Dough, & Modeling Materials - Children will have fun using their hands to make creative statues and models with dough and modeling clay. Be sure to facilitate their creativity with rollers, cutters, and texture kits.
Collage & Craft Materials - Offer a variety of art supplies for any collage or craft projects, including craft sticks, feathers, pipe cleaners, yarn, glitter, stencils, pom poms, wiggly eyes, felt sheets, art kits, and more.
Glue, Tape, & Adhesives - Help children keep their project together with tape, glue, and other adhesives. You can also reduce the chance of a mess occurring by using washable glue or easy-to-use glue sticks.
Paint & Paint Materials - Stock your art center with a variety of paints, including tempera paint, finger paint, glitter paint, and watercolor paint among others. Sponges, paint pots, and paint markers are also necessary paint supplies for art centers.
Paper & Scissors - Stimulate children's senses by giving them the chance to use paper in different textures, colors, and sizes. Also make sure the scissors available in your art center are safety scissors that will only cut paper.
Stampers & Stamp Pads - Stampers and stamp pads are a quick and easy way to create art projects for kids. A variety of stampers, including emotions, family, animals, letters, and numbers stampers, help make stamp projects fun and versatile.
Once you've completed these five steps, you'll have an educational and fun art learning center for the children in your care to enjoy!