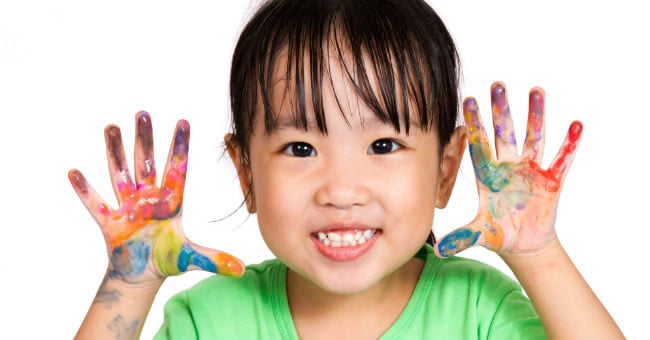 Finger painting is great for young children's development. Giving children opportunities to paint with their fingers helps them develop their fine motor skills and encourages them to be creative. Finger painting also gives you plenty of opportunities to teach children a variety of concepts. For example, you can tie finger painting to science by having children experiment with color mixing, and you can also help them learn basic math concepts by having them paint numbers and shapes.
However, finger painting is often considered a messy art, so it's important to make sure you know what you're getting yourself into when finger painting with children. Here are a few finger painting tips from the GIANT Encyclopedia of Monthly Activities that can help you prepare for finger painting activities.
Gather Your Supplies – Gather all of the finger paint you need, and be sure you have water, paper towels for cleanup, and easel paper or trays. You may also need newspaper, a plastic tablecloth, or art mats to keep paint off the floor and tables. Plastic tubs will also be needed if you don't have a sink in the classroom or don't wish to use it.
Prevent Big Messes – Finger painting can be very messy, but it doesn't have to be. Try covering a table with newspaper or a large plastic tablecloth. Putting easel paper or activity trays out for each child to use when painting may also help contain the mess and help you move paintings to another place to dry.
Start Painting – Give each child ¼ cup of yellow paint and ¼ cup of red paint. Encourage them to mix it together to make orange. Repeat with other color combinations. Have a spray bottle handy to spritz the papers with water if the paint begins to dry.
Make Handprints – At another table, have colored paper ready for children to make handprints when they are done painting and are about to wash their hands. This will help get some of the finger paint off their hands before they go wash up, and it also gives you another art piece you can hang up or use for another activity.
Set Up a Cleanup Station – At a nearby table, set up a cleanup station. Prepare one dish tub full of warm, soapy water and another with warm, clear water. Have a stack of paper towels next to the water. Each child washes her hands in the soapy water, rinses in the clear water, and wipes off with the towels. You can also place soap and paper towels next to a classroom sink if you would rather have them clean up there.
Hang Children's Paintings – Finger painting paper has a tendency to curl after drying. Staple the actual painting to a second piece of paper to make hanging easier.
Browse our Art section for finger painting supplies and other art and craft materials. You may also want to read our Insights and Inspirations article "Tempera Paint vs. Finger Paint" to learn more about two of the most popular paints you likely use in your classroom.