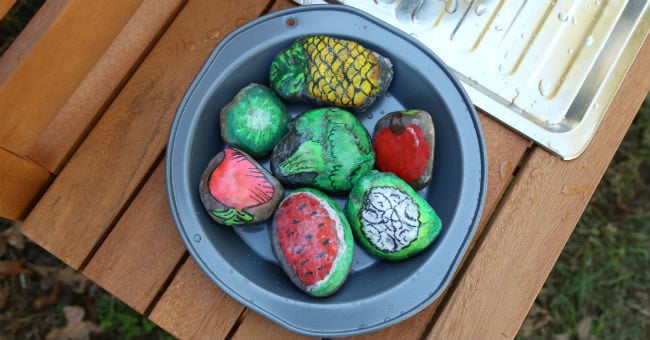 Spark your imagination and get your creative juices flowing with DIY Mud Kitchen Play Food. Children love to make mud pies, but what about mud cakes, mud cookies, or mud veggies? Mud Kitchen Play Foods will encourage children to learn and play in small groups while getting outside!
See below to download our FREE printable!
What is DIY Mud Kitchen Play Food?
A mud kitchen is an outdoor kitchen where a child can explore his or her creativity and connect with nature. Mud Kitchen Play Foods are ordinary stones that have been painted and turned into all types of foods—ranging from fruits and veggies to cakes and ice cream. The beauty in DIY Mud Kitchen Play Foods is that children can be creative and imaginative from start to finish.
Why is DIY Mud Kitchen Play Food a great classroom activity?
DIY Mud Kitchen Play Food helps children work on developing their measuring skills, team building abilities, and engaging in sensory play, and they will be able to play at their own developmental level. This hands-on activity will include painting and collaborating with other children in small group settings.
What are the benefits of dramatic play?
By assigning or allowing children to accept roles of someone or something, they will be breaking down the barriers of reality. Whether their roles are real world or fantasy, dramatic play results in serious and natural learning. By letting children pretend that they are in the role of someone or something other than themselves, they will develop learning skills in various situations. Dramatic play is a healthy learning environment for children in early stages of childhood development. It also teaches self-regulation as well as encourages language development.
How can you include DIY Mud Kitchen Play Food both for outdoor learning and in the classroom?
Mud Kitchen Play Foods allow children to enjoy the simplicities that nature has to offer as well as creating important developmental skills between classroom peers when working in small groups. DIY Mud Kitchen Play Food invites children to create masterpieces with open opportunities while building a community among the classroom.
What are the benefits of having materials for indoor and outdoor learning for young learners?
Connecting with nature can be a huge benefit for young learners. Children will develop intellectually, emotionally, socially, and physically. Children will face situations where they will rely on their creativity and problem-solving skills, which allows for growth intellectually. DIY Mud Kitchen Food Play can also help improve children's nutrition by encouraging them to eat more fruits and vegetables.
Download our FREE printable below!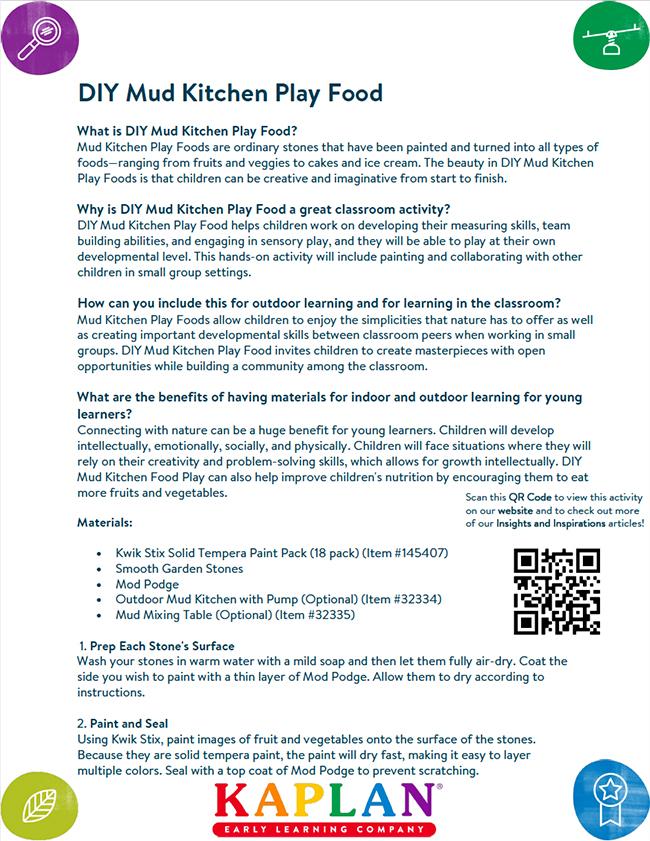 Required Materials:
Smooth Garden Stones
Mod Podge
Optional Materials:
1
Prep Each Stone's Surface
Wash your stones in warm water with a mild soap and then let them fully air-dry. Coat the side you wish to paint with a thin layer of Mod Podge. Allow them to dry according to instructions.
2
Paint and Seal
Using Kwik Stix, paint images of fruit and vegetables onto the surface of the stones. Because they are solid tempera paint, the paint will dry fast, making it easy to layer multiple colors. Seal with a top coat of Mod Podge to prevent scratching.
Include the DIY Mud Kitchen Play Food activity in your classroom to provide creative play food for dramatic play indoors or outdoors. Be sure to browse our selection of outdoor furniture, outdoor learning resources, and related professional development.