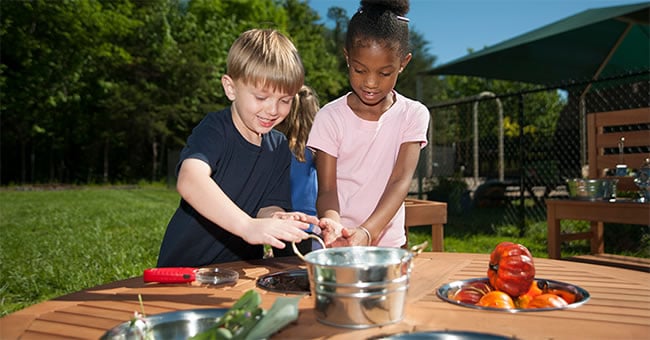 The sun is shining, and preschoolers are ready to play outside! Taking your classroom activities outdoors can be challenging at times, so we've come up with a list of six outdoor classroom ideas for your preschoolers.
1. Take Art Outside
Preschoolers often love to explore art in the messiest ways. Painting indoors can be a headache to clean up, so taking the paint outside is the perfect solution. The children in your care will love painting beautiful masterpieces in the warm sunshine. Another great outdoor activity for your preschoolers is rock sorting. First, have the children gather 15 to 20 rocks. Next, have them paint the rocks several different colors. Finally, when the paint on the rocks has fully dried, encourage your preschoolers to sort the rocks by color.
2. Make Math Fun with Outdoor Learning
Finding ways to teach math outside while keeping the children in your care focused can be a challenge. However, the Numbers Run activity is sure to keep your preschoolers actively engaged while learning about numbers.
Materials:
Outdoor Pavement
Sidewalk Chalk
What to do:
Ask the children to spread out, and let each child pick out a stick of sidewalk chalk.
Assign each child a number to write on the pavement with chalk. (Make sure they make the numbers large enough to be seen at a distance).
Explain that you will call out numbers, and the children are expected to run to the number called when they hear it. (Tell the children to stand on the number until you call the next number).
Begin!
Let the children have a turn calling out the numbers when they become comfortable with the activity.
3. Engage in Outdoor Sensory Play
Outside is the perfect place for sensory play! Encourage your preschoolers to engage their senses by playing with a mud mixing table or a water table. These outdoor classroom furniture pieces are excellent for exploratory and messy play. Getting messy is important for sensory learning and early childhood development.
4. Explore Science Concepts Outside
Gardening is a fantastic way to explore scientific concepts outside. As an educator, you can use gardening to teach the children in your care about plant growth as well as nutrition and the importance of eating healthy. Check out the Outdoor Learning section of our website for gardening tools to include in your outdoor classroom.
5. Encourage Outdoor Literacy Learning
Creative outdoor literacy activities are hard to come by, but we suggest exploring this literacy scavenger hunt activity with your preschoolers.
Materials:
What to do:
Hide letter stones outside for children to find
When a child finds a letter, encourage them to make letter connections, and exercise their letter recognition skills. For example, "B is for bird. Did you see any birds on your scavenger hunt?"
Keep playing until all letters of the alphabet are found.
6. Enjoy Dramatic Play Outside
Playing house in outdoor playhouses is a classic dramatic play activity. Encourage children in your care to take turns playing different roles. Dramatic play is also great for children to explore professions. With the right accessories, children can enjoy pretending to be archaeologists, civil engineers, and environmental scientists. Pretending to fill these roles will not only entertain the children, but also teach them STEM concepts in an exciting way.