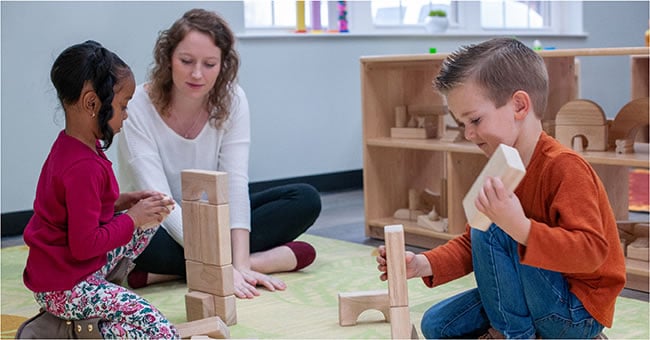 Young children are full of energy and eager to learn, whether they're three months or three years old. We've developed an updated infant and toddler program: Learn Every Day®: The Program for Infants and Toddlers, 2nd edition, as well as an updated preschool curriculum: Learn Every Day®: The Preschool Curriculum, 2nd edition, to help teachers nurture children ages 0 to 5 years and prepare them for a lifetime of learning.
Learn Every Day® has always provided a strong preschool curriculum and infant-toddler program. But, as you know, early childhood education research changes rapidly. To continue to offer you the most up-to-date teaching tools and strategies, we must adapt and evolve our teacher resources and offerings.
So, what's different with the revised versions?
The biggest change? New research! Both the curriculum guide and program guide feature the latest information on:

brain development, approaches to learning, and creativity
executive functions and social-emotional skills development
supporting guided play and creating effective learning centers
managing schedules and transitions
nurturing communication, emergent writing, emerging literacy, mathematical thinking, scientific inquiry, and health and physical development
implementing inclusion and working with children with special needs, including visual and hearing challenges, cognitive delays, motor delays, speech/language challenges, emotional/behavior challenges, and sensory-processing challenges
supporting the learning of dual language learners

Discover our expanded list of teacher resources and a larger children's book list
Find our updated transition tips and ideas for avoiding meltdowns
Learn ideas for creating home-to-school connections
And discover ways to adapt the Learn Every Day® Preschool Curriculum for 3-year-olds
Filled with new research and updated approaches to early learning, the infant/toddler program and preschool curriculum guide teachers as they craft interactive, multisensory learning environments to engage children of all backgrounds, including dual-language learners and those with special needs.
About the Editor
Learn Every Day® is edited by Clarissa Willis, PhD. She is an associate professor of education at the University of Southern Indiana. She has been involved in early childhood education for more than thirty years, including experience in public school, early intervention, curriculum development, and teacher training. She has written 19 teacher-resource books, including the award-winning Inclusive Literacy Lessons with Dr. Pam Schiller and Teaching Young Children with Autism Spectrum Disorder.