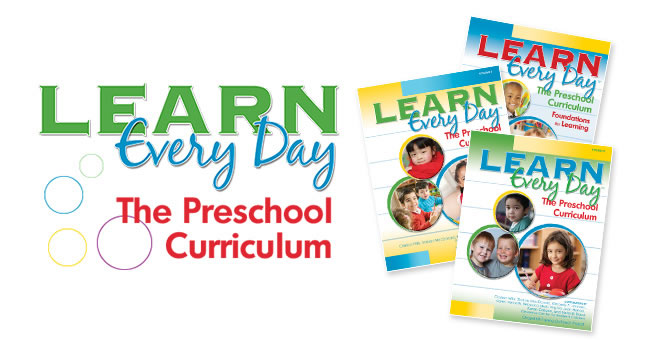 Are you looking for a comprehensive, engaging, and affordable preschool curriculum? Learn Every Day™: The Preschool Curriculum is comprehensive, based on current research, and engaging for both children and adults, which makes it easy to implement since there's no need to purchase a lot of additional equipment or participate in days and days of specialized training. All of these factors make Learn Every Day™: The Preschool Curriculum one of the most cost-effective and affordable programs on the market.
Some educators feel that a curriculum must detail exactly what to teach and when and how to teach it, but others think a curriculum that provides learning goals and guidance to teachers in developing activities and interactions is more appropriate for young children. We believe a curriculum should support teachers as they support ALL children on their pathway to success. Because of the importance of benefiting all children, Learn Every Day™ utilizes a strengths-based approach with child-focused learning. Our mission is to build strong minds and support the entire development of a child by focusing on each child's many strengths.
Learn Every Day™: The Preschool Curriculum has a variety of highlights and features:
Three Volumes – Not counting the program guide, the actual curriculum consists of three volumes: Foundations for Learning and two thematically organized teaching guides (Volume 1 and Volume 2). Foundations for Learning will help you get started using the curriculum, and the two volumes contain the day-to-day lessons and activities. A music CD with 18 songs is also included in the curriculum.
36 Units of Study – Each of the units of study were written to last one week, but they can be extended to last longer. Each study unit includes a unit overview, a featured vocabulary list for the week, a list of objectives, tips for dual language learners, resource suggestions, and adaptations for children with special needs.
Five Lessons in Each Unit – A lesson usually lasts one day, but high-interest lessons can last longer. Each lesson features a materials list, large group activity, transition tip, small group activity, center activities, closing circle activity, and home stretch activity.
LearnEveryDayAbout.com – Visit the LearnEveryDayAbout.com website for instant access to a sample unit and lesson plan, classroom schedules, lesson planner, parent letters, and more.
ProFile Planner – ProFile Planner is now available for Learn Every Day™: The Preschool Curriculum (online only). The ProFile Planner is an easy and convenient tool for developing lesson plans and documenting state standards.
Full- or Half-Day Program – Learn Every Day™: The Preschool Curriculum can be used in a full- or half-day program. Tips on how to make schedule adjustments are available in the Foundations for Learning book and on the LearnEveryDayAbout.com website.
Comprehensive or Supplemental Curriculum – Learn Every Day™ can be used as a comprehensive or supplemental curriculum in the classroom.
Teacher Resource Library and Manipulative Kits – A teacher resource library and manipulative kits for math, language, and science are available as supplements to the Learn Every Day™ curriculum. You do not have to have them, but they can help enrich your implementation of the curriculum.
For more information about the curriculum, authors, resources, alignments, and more, check out our Learn Every Day™: The Preschool Curriculum landing page.