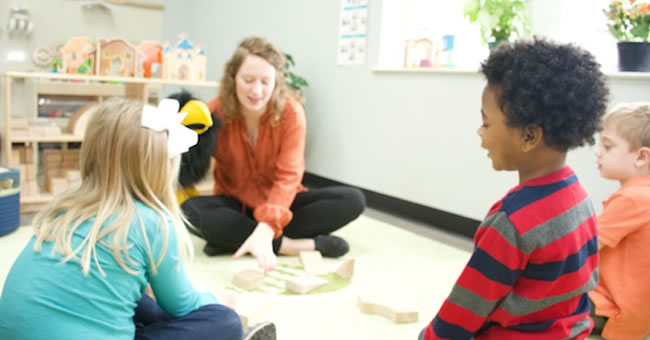 Article by Laura Bailet, PhD, Kaplan's Chief Academic Officer
If you walk into an average preschool classroom something might strike you as odd. You'll notice children learning math, sitting in story time and perhaps coloring. But what you may not see is children playing! Play has been de-emphasized in many preschool classrooms, which means lost learning opportunities for kids.

Child's play seems to have stirred quite the controversy among parents and educators alike. The debate between play and academics continues to drive the two concepts apart, when in fact, research shows they work best together.
Five reasons we should support play:
Roles and scenarios in dramatic play teach imagination, creativity, self-regulation, symbolic thinking, memory and language
Children naturally explore and engage with content areas such as math and science during free play
Math and literacy instruction increase and inspire the quality of young children's play
Child-directed learning helps children make practical connections among all four domains of learning
High-quality instruction and high-quality free play do not have to compete for time in the classroom. Doing both well makes each one richer.
American children are still behind their peers in other developed countries. Our nation's children need a different approach to learning that connects with their eagerness and readiness to learn.
Connect4Learning was developed to meet this challenge.
Connect4Learning is the research-led and classroom-tested approach to successful comprehensive teaching and learning in Pre-K. Funded by the National Science Foundation, the curriculum features 6 units with 32 weeks of lessons and learning centers. We believe that children learn best through play, which is why our learning centers are a vital part of the Connect4Learning curriculum.
About Laura Bailet, PhD, Chief Academic Officer, Kaplan Early Learning Company
Dr. Bailet has more than 30 years' experience in the field of early childhood. She earned her BA at Wake Forest University and her MA and PhD from Northwestern University. She is a licensed school psychologist and has expertise on a wide range of early childhood topics and learning disorders, including dyslexia and autism. The former Operational VP at Nemours Children's Health System and Assistant Professor at the Mayo Clinic College of Medicine and Science, she has published numerous journal articles and book chapters and has been recognized by many award boards. For her accomplishments, Dr. Bailet was selected as the top "Change Agent" in Jacksonville, FL, in 2006 and is the recipient of Jacksonville's prestigious EVE Award for her success in creating Nemours BrightStart!, the program to promote reading success for all children. She is a member of the Library of Congress Literacy Awards Advisory Board.