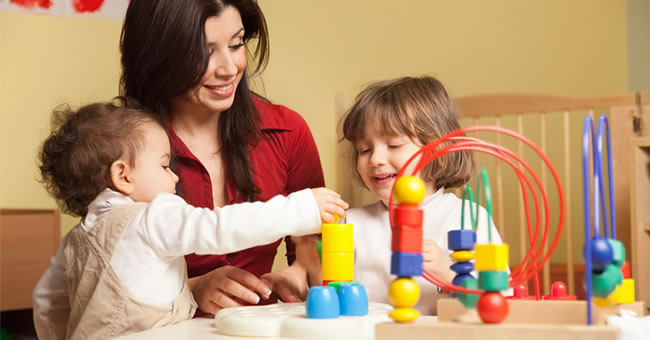 Whether you prefer to use the term program or curriculum, helping children develop the skills they need to be successful in life with an appropriate plan and schedule should be a prominent focus of any early childhood professional. Curriculum goes hand in hand with assessment, and both should be relevant to your program's goals and objectives. Selecting an appropriate curriculum or designing a program for infants and toddlers can be much harder than choosing an assessment, however. This is mainly because there are a variety of approaches based on different beliefs and practices available.
An infant-toddler curriculum should ultimately support children's development and address each child's individual needs, interests, background, learning style, and rate of learning. As shared in the Program Guide for Learn Every Day™: The Program for Infants, Toddlers, and Two, young children need opportunities to do the following in order to build a strong foundation for future learning:
Look, listen, and respond to their environment.
Enthusiastically explore their world.
Actively participate in daily routines and novel experiences.
Reach developmental milestones on their own accord.
Acquire and develop social-emotional skills in a nurturing environment.
J. Ronald Lally explains in "Infants Have Their Own Curriculum" that curriculum plans for infants and toddlers should focus on "how to best create a social, emotional, and intellectual climate that supports child-initiated and child-pursued learning and the building and sustaining of positive relationships among adults and children." Both teachers and children should play a role in selecting a curriculum format.
In his article, Lally also includes specific factors educators should consider when developing or selecting a curriculum for infants and toddlers:
A curriculum or program should take into account the three stages of infancy (young infant, mobile infant, and toddler) and the transitions between those stages.
Comprehensive learning strategies and activities should be a major part of a curriculum, because infants learn and gain skills holistically.
A curriculum should build trust and establish caring relationships between caregivers and young children. Positive, ongoing relationships help young children grow and develop and help caregivers better understand and respond to children's individual needs.
A child's background and his or her home culture play integral roles in the development of a child's self-identity. A curriculum should be inclusive of all children and allow for the integration of a child's home culture or home language.
A curriculum should help caregivers and educators develop environments and routines that help children learn and grow.
This last factor is a crucial part of curriculum selection. Infants and toddlers learn best when they are exploring their environment, which makes creating an inviting environment even more important. As explained in "Environment as Curriculum for Infants and Toddlers," "Taking time to evaluate your environment from the perspective of curriculum, with a focus on what children are showing you they want to learn about, can lead to new insights and ideas about how to create space for learning."
For more information about selecting an appropriate infant-toddler program or curriculum, browse the Early Head Start National Resource Center and the article sources and additional resources listed below. You can also contact your local Kaplan representative for additional assistance.
Article Sources
"Environment as Curriculum for Infants and Toddlers." News You Can Use. Early Head Start National Resource Center. HHS/ACF/OHS. 2010. English.
"Infants Have Their Own Curriculum: A Responsive Approach to Curriculum Planning for Infants and Toddlers." Lally, J. Ronald. Curriculum in Head Start. Head Start Bulletin #67. HHS/ACF/ACYF/HSB. 2000. English.
Program Guide for Learn Every Day™: The Program for Infants, Toddlers, and Twos. Lewisville, NC: Kaplan Early Learning Company.