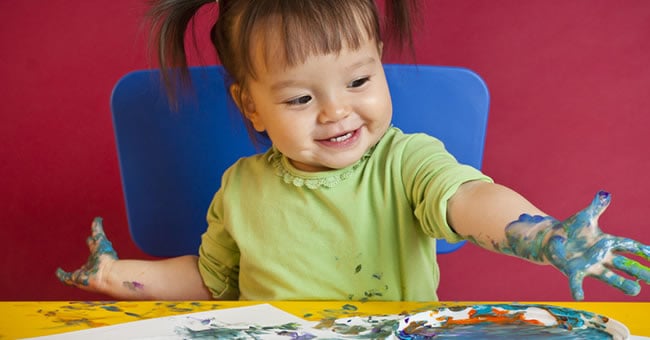 Are you an advocate of STEM (or STEAM) education for infants and toddlers? Some people worry that the early childhood years are too early to teach children STEM/STEAM concepts, but a rising number of people believe that early exposure to STEM/STEAM can help children establish a strong foundation in the concepts and skills they need to be successful in school and in life.
As an early childhood educator, you likely recognize the value of an early STEM/STEAM education, but you may not know the best practices in teaching STEM or STEAM in infant-toddler environments. Keith Pentz, National Early Childhood Specialist for Kaplan Early Learning Company, suggests you keep the following tips in mind as you develop an instructional strategy that implements STEM concepts:
How you go about creating your lessons is the biggest factor in teaching STEM/STEAM to infants and toddlers. Children are natural explorers, so your lesson plans should provide a variety of playful exploration opportunities for children.
STEM/STEAM for infants and toddlers is about providing multisensory experiences in science, technology, engineering, the arts, and mathematics. Seeing, hearing, tasting, touching, and smelling are all important parts of meaningful learning experiences.
STEM/STEAM should be embedded in project work. Projects allow teachers to incorporate a variety of materials and experiences into what children may be interested in investigating.
Technology is more than computers, smartphones, and other devices. By true definition for any age level, technology is anything that has been created by humans. Crayons, paints, paper, scissors, markers, dough, cardboard, blocks, etc. should be the technological focus for infant and toddler programs.
How you approach teaching STEM/STEAM in infant-toddler environments will be a major factor in how STEM/STEAM education benefits the children in your care. Check out the additional STEM/STEAM resources listed below and our selection of science, technology, engineering, art, and math materials for fun ways you can teach STEM/STEAM concepts. Our on-site professional development program also offers consultations and trainings that can help enhance your program and instructional strategy for STEM/STEAM.