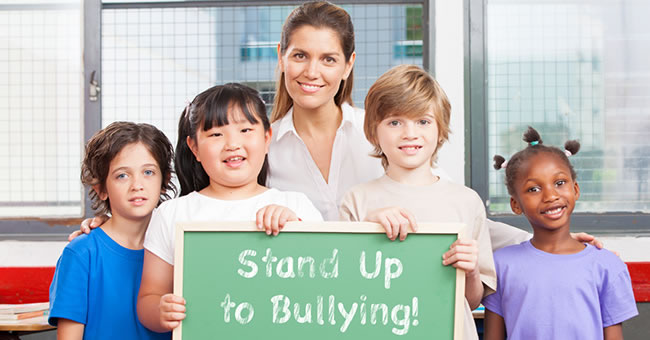 Each year, millions of students in the United States are impacted by bullying. Almost 22% of students reported being bullied in the 2012–2013 school year (National Center for Educational Statistics). One way you can respond to this prevalent issue is by taking time to address it in your classroom with the tips below and any other materials and resources available to you from your school or school district.
Talk About Classroom and School Policies on Bullying
Make sure children know the definition of bullying and the different types of bullying someone may experience. The age of the children in your care will determine how you explain bullying and the examples you provide. Once children understand what bullying is, talk with them about your policy and the school's policy on bullying. Let them know that bullying will not be tolerated and there will be consequences if they bully someone. Emphasize that you want everyone to work together to stop bullying.
Discuss the Roles of Bullies, Victims, and Bystanders
Discuss how/why children bully others and how bullying affects victims. It's also important for you to discuss the role of bystanders in bullying situations. Bystanders see the bullying occur but don't do anything to help the victim. This is a great opportunity for you to help children develop the social-emotional skills they need to feel safe in helping their bullied peers.
Help Children Develop Empathy for Others
Defined by Merriam-Webster as "the ability to share someone else's feelings", empathy can play a key role in bullying prevention. Children will be less likely to bully someone and more likely to stand up for someone being bullied if they can emphasize with how a bullied child might feel. Ask children to describe how they would feel if they were bullied or saw someone being bullied. They'll likely say they would feel angry and afraid—explain that you can work together to prevent everyone from experiencing those types of bad feelings as a result of bullying.
Practice Giving Each Other Compliments and Other Kind Acts
The world would be very boring if we were all alike. Teaching children to accept other people's differences and embrace their own can help boost children's self-esteem and prevent them from bullying others. Make it a classroom goal to practice giving each other compliments and other kind acts throughout the school year.
Encourage Children to Stand Up Against Bullying
Whether it's signing a pledge against bullying or raising awareness by doing a fundraiser to help an anti-bullying organization, it's important that you help children find ways to stand up against bullying. You can find a variety of bullying prevention pledges and toolkits online, or you can come up with your own pledge for them to sign.
Browse our Social and Emotional section for a variety of materials you can use in the classroom to help children learn about feelings and develop the skills they need for social interactions. You can also find more information about bullying in schools and a list of free resources and related products in our Insights and Inspirations article "Addressing Teasing and Bullying in Schools".