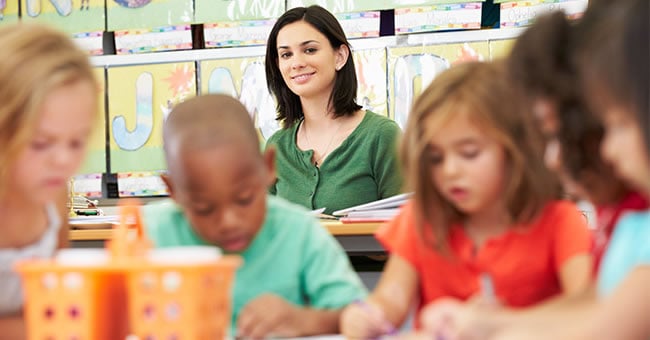 Helping children develop social and emotional skills at a young age paves the way for success in academia and life. For children to be successful, they have to be able to work with others and control their emotions. If a child has strong social and emotional skills, he or she is much more likely to be happy and confident and able to overcome any challenges or tough experiences. In Getting to the Heart of Learning, Ellen Booth Church discusses the importance of ensuring that children have developed skills in the seven Cs of social and emotional learning:
Cooperation – Cooperation skills are essential in early childhood classrooms. From singing songs to playing games, almost any activity you do with your group of students can be a cooperative activity. Helping children learn how to empathize, work with, and get along with others can test and strengthen children's self-regulation skills.
Communication – Creating an environment of acceptance helps children know that their voices will be heard and respected, which helps them feel comfortable expressing their ideas and opinions in the classroom. Encouraging communication in the classroom will help children be more open to learning in all areas of the curriculum.
Curiosity – Curiosity can ultimately help children take a more expanded view of the world around them and all that inhabits it. If a child wonders why someone looks different or walks funny, those curious observations present the perfect opportunity to talk about acceptance and understanding of people with similarities and differences.
Caring – A child's curiosity can lead to caring, compassion, and empathy. As children learn that we are not all alike, they also begin to learn that we all have feelings that can be hurt or helped by caring interactions. Shared activities can help children learn how to support and care for one another and help them begin to see themselves as part of a larger whole.
Contemplation – Giving students opportunities to stop, relax, rest, and reflect can create a more positive social and emotional climate in the classroom. It's important to remember that reflection time doesn't have to be formal—it can just be a reminder that children need to take a breath and stop before they react or respond to something.
Confidence – Developing children's confidence and self-esteem will help them tackle more and more difficult learning challenges in all areas of the curriculum. Focus on helping children feel good about their identities as individuals and in relationship to others. Confidence helps children develop persistence and resilience, which are all skills that will assist children throughout school and the rest of their lives.
Competence – Competence is related to confidence, but they are different. Competence can be viewed as a child's perceived ease in participating in small- and large-group activities. Through warm and nurturing acceptance, children develop confidence in themselves and trust they are confident enough to handle the challenges that come their way.
Browse our Social and Emotional section for a variety of resources and materials you can utilize in helping children develop social and emotional skills. The Social and Emotional Development category of our Insights and Inspirations section also offers some great free tips and resources for educators.