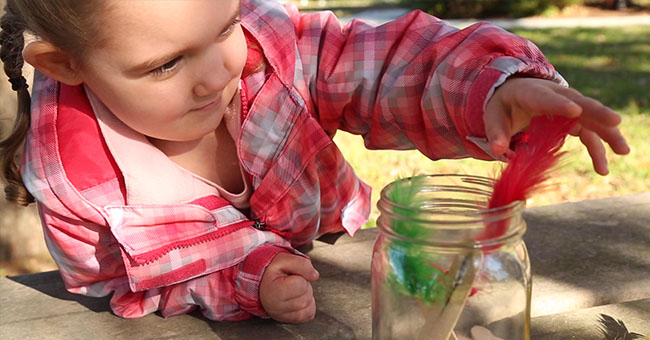 Give thanks this holiday season with the thoughtful Gratitude Game! Perfect for holiday celebrations in your classroom community and at home, this game encourages children to take a mindful moment to express gratitude for important people, memories, and more, that they're thankful for.
Boost social-emotional learning and support the practice of spreading kindness and giving thanks through this engaging game. Children will love reflecting on what they're thankful for and sharing with their classmates and families!
What Is The Gratitude Game?
The Gratitude Game is the perfect way to introduce children to the concept of being thankful and expressing gratitude. As students choose colorful feathers, each corresponding to a specific idea like "say a place" or "say a person," they're encouraged to reflect on what they're thankful for and express those ideas, experiences, and stories, aloud. Together, your students will cultivate strong bonds and explore how they can share gratitude with others in the classroom and the larger community!
Why Is Teaching Gratitude Important?
Gratitude is the act of being not only aware, but thankful for the good things that happen in life. Similar to learned emotions like empathy and compassion, the concept of gratitude is important to teach to children. If children do not learn about gratitude at an early age, they can easily begin to take things for granted or believe that they are entitled to certain items or treatment. Finding ways to encourage children to practice gratitude at school and at home is essential to their emotional development.
It is important to note that gratitude can be taught and practiced year round, not just during holidays like Thanksgiving. Incorporating gratitude into holiday activities helps provide children with a more concrete example of what gratitude is, but it can be implemented during non-holiday times as well.
How Can I Use This In My Lesson Plan?
Lessons on gratitude like those shared in the Gratitude Game are an inclusive and thoughtful alternative to traditional Thanksgiving activities. This mindful activity encourages children to establish meaningful connections with their classmates and can easily be extended into a larger class project focusing on making a difference in your community through expressions of gratitude through acts like volunteering.
Extend the lesson of gratitude beyond your classroom by encouraging students to share the Gratitude Game with their families and loved ones during their holiday celebrations. The opportunities to express gratitude and experience interdisciplinary learning are endless with this game—sharing what you're thankful for is just the beginning!
Download our FREE printable below!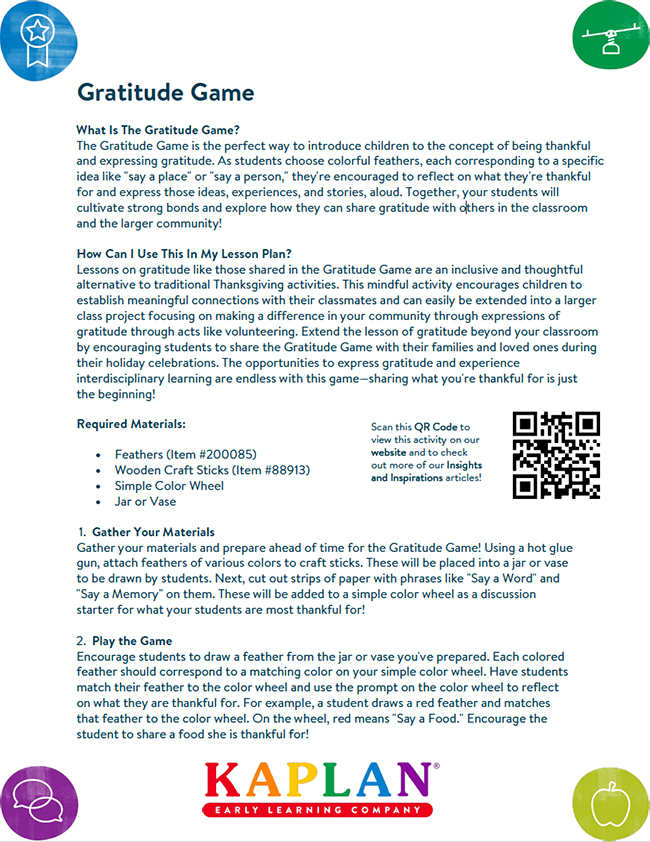 Required Materials:
Simple Color Wheel
Jar or Vase
1
Gather Your Materials
Gather your materials and prepare ahead of time for the Gratitude Game! Using a hot glue gun, attach feathers of various colors to craft sticks. These will be placed into a jar or vase to be drawn by students. Next, cut out strips of paper with phrases like "Say a Word" and "Say a Memory" on them. These will be added to a simple color wheel as a discussion starter for what your students are most thankful for!
2
Play the Game
Encourage students to draw a feather from the jar or vase you've prepared. Each colored feather should correspond to a matching color on your simple color wheel. Have students match their feather to the color wheel and use the prompt on the color wheel to reflect on what they are thankful for. For example, a student draws a red feather and matches that feather to the color wheel. On the wheel, red means "Say a Food." Encourage the student to share a food she is thankful for!
Fall into learning with fun seasonal activities and experiments! Browse our selection of related seasonal resources to encourage autumn explorations and incorporate engaging activities into your classroom.