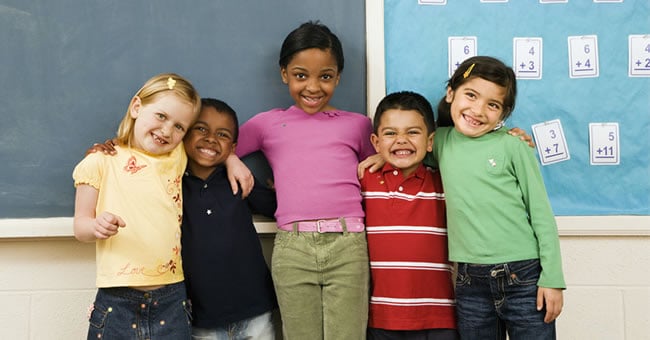 One of the best ways you can meet the social-emotional needs of children as an educator is to help them develop the social and emotional skills they need to be resilient. Children who know how to overcome obstacles and adjust to changes in their lives often get along with others and develop other important social-emotional skills. Resilience is important for children because it gives them emotional stability in unknown situations and helps them develop skills necessary to be successful in life. The book Socially Strong, Emotionally Secure discusses several ways in which you can nurture children's strength and confidence to help them build resilience:
1. Carry out supportive interaction strategies.
Supportive interactions are the foundation for building strong, healthy relationships with children. Intentionality is a key part to having an effective interaction strategy, however. The ways in which you interact with children should be well thought out and planned in advance. Intentional planning can help prevent challenging behaviors and promote children's social-emotional development. Here are a few simple ways you can have supportive interactions with children:
Listen attentively to children by leaning forward, making eye contact, and asking questions about what they are telling you.
A simple smile or thumbs up can show children that you care while also comforting and reassuring students.
Let children know that you are happy to be their teacher by sending a note when they are sick, celebrating birthdays in the classroom, having casual conversations with them, and commenting on small changes in their appearance (e.g., a new haircut, a new shirt, or a new backpack).
2. Foster supportive relationships between school and home.
Teachers and families should be partners in helping children succeed. Home-school connections and family engagement both play a major role in helping children develop the skills they need to be positive members of the community. In addition to caring for and educating children, you should think of your role as an early childhood educator as helping families get off to the right start with their child's education and development. Here are three ways you can build children's resilience and foster supportive relationships between home and school:
Make an effort to learn about and respect the family and culture of the people important in your students' lives.
Establish ways you can communicate and exchange information with families.
Use a variety of strategies and family engagement events to ensure that families are involved in their children's education.
3. Provide activities and experiences that give children opportunities to learn social-emotional skills.
Playing while learning should be an emphasis in any early childhood classroom, because meaningful play is one of the best ways for children to learn and develop social-emotional skills. Resilience can also be taught through meaningful play. Here are a few activities and experiences that can help you promote resilience in the classroom:
Help children build language and communication skills by asking them open-ended questions throughout the day.
Encourage children to be kind to one another and learn about feelings by reading books and singing songs about emotions.
Teach children relaxation techniques and other appropriate ways to reduce stress and calm down.
4. Have a predictable, yet flexible daily routine with carefully planned transitions.
You can avoid difficult transitions for children by planning and organizing your daily routine to help them feel secure. Remember that young children don't really understand concepts of time. You can help them learn about time and how to adapt to situations by having a predictable, yet flexible routine. Incorporate the following three ideas in your classroom to build resilience through daily routines and transitions:
Involve children in carrying out routines and transitions by asking them to do things such as be a line leader for the week.
Teach children how to take care of themselves by providing them with supplies to use for personal care and cleanup.
Ensure that children do not feel rushed by planning enough time for activities and routines.
5. Design spaces to create learning environments that contribute to children's overall development and well-being.
Young children are very sensitive to their environment, so it's important for you to create a learning environment that is engaging and comforting to children. Be sure to take into account the likes, dislikes, and cultures of all the children in your care. If children feel comfortable in their environment, they're more likely to learn and develop the skills they need to succeed in life. The authors of Socially Strong, Emotionally Secure recommend that you keep the following goals in mind when thinking about your environment:
Your space should make children feel welcome and safe.
Self-directed play and imagination should be promoted in the space.
The arrangement of the space should allow children to be away from others when needed.
For additional tips and a variety of resilience-related activities, check out Socially Strong, Emotionally Secure and our other social-emotional resources.