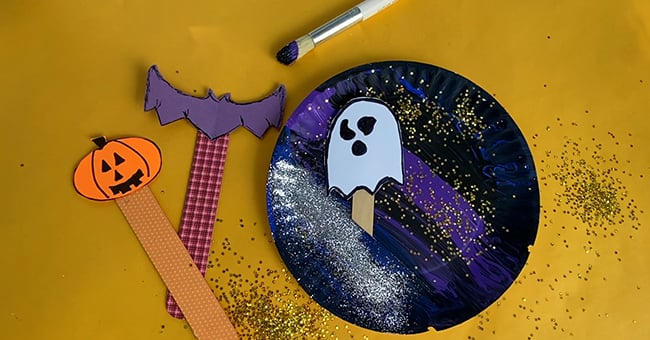 Halloween is just around the corner and what's scarier than ghosts, bats, and jack-o-lanterns? The scary fun you'll have when your Halloween favorites put on a performance! Create your own Halloween classroom spectacular with this kid-friendly, engaging, and easy Halloween Paper Plate Puppet Theater activity!
What is the Halloween Paper Plate Puppet Theater?
The Halloween Paper Plate Puppet Theater (besides being a fun thing to say) is a simple and fun activity that gives children the chance to express their creativity through dramatic play! Children will love creating and designing their own unique paper plate stages and showcasing their very own handmade, Halloween puppets as their actors. Telling a story with their new Halloween friends gives learners the opportunity to develop critical literacy and language skills and also supports their growing imaginations. Having their creations brought to life and seeing the fun adventures their new Halloween puppet pals will is the perfect way to engage children and encourage creative explorations through play. The possibilities for play are endless with this activity!
How Can I Use This In My Lesson Plan?
This activity presents itself as a great opportunity to teach children about the sights, sounds, colors, and fun activities associated with Halloween! Going even further, you can teach them about the concept of a play or theatrical production by using this activity as an example. This is also a wonderful opportunity to encourage students to imagine and create their own stories. Encourage them to act these out in your dramatic play area or share them with their families and friends at home all times of the year!
Download our FREE printable below!