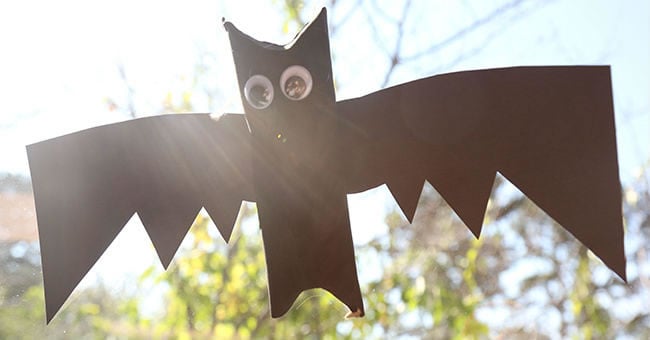 If you're looking for ways to decorate your classroom for Halloween, we have an easy and quick craft you can do to add some spooktacular cheer to your classroom! Paper Roll Halloween Decor enables you to create a variety of cute, spooky creatures to hang from the ceiling or classroom walls. This fun craft also encourages upcycling of leftover household items and spare art supplies and serves as a great discussion starter with your students on the importance of recycling/upcycling materials.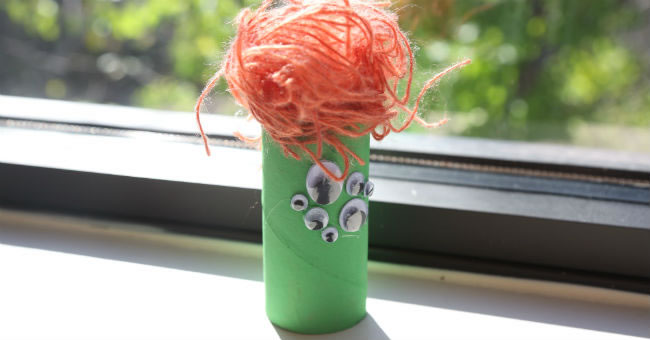 Use everyday materials and supplies, such as paper towel rolls, yarn, paint, construction paper, and hot glue, to create Paper Roll Halloween Decor. Simply cut a paper towel roll in half; paint each half the color of your creature(s); and accessorize with eyes, wings, hair, etc. Watch the video and read the full instructions below!
Required Materials:
Paper Towel Tubes
String (Optional)
1
Prep the Paper Rolls
Using scissors, cut a paper towel roll in half to create two smaller paper rolls. Paint one paper roll black and the other paper roll green. Let dry.
2
Make the Bat
Fold a piece of black construction paper in half. Starting on the folded side, draw the shape of a wing. Cut along the lines, and then open up the construction paper to reveal bat wings! Fold down the top of the tube to make two pointed bat ears. Put hot glue along the middle of the wings and place the black paper roll on top. Hot glue two Wiggly Eyes to the front of the bat.
3
Make the Green Monster
Add hot glue around the inner ring at the top of the green tube and insert a handful of yarn to make the monster's hair. Hot glue a cluster of different-sized eyes on the front of the green monster.
4
Hang and Repeat
Add string to the back of the bat and monster and hang them up. You could also choose to not use string and just place them at different spots around the classroom (e.g., bookshelves, storage units, and student desks). Repeat these steps to make as many bats and monsters as you need to create a festive classroom!
Incorporate Paper Roll Halloween Decor into your classroom decorations for Halloween. You can also make themed Paper Roll Decor for other holidays. Be sure to browse our selection of art and craft supplies and our free activity ideas and seasonal crafts for additional inspiration.