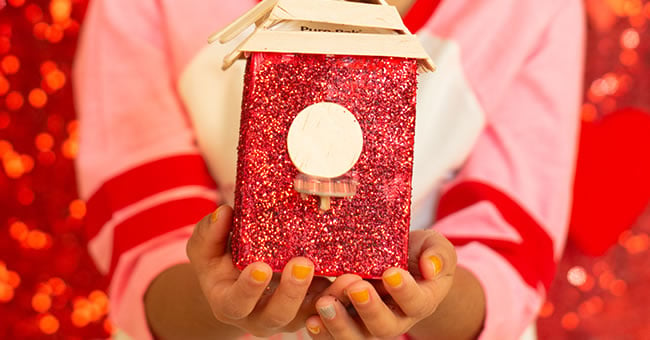 Capture some of the love in the air with these charming love bird craft activities. Children will be thrilled to create their own sparkly and adorable love birds along with the perfect love bird house to match! The use of loose parts and natural materials, as well as tried and true classroom favorites, are sure to have everyone feeling the love this Valentine's Day season.
Required Materials:
1
Love Bird
Have children choose the following from the Naturals Starter Pack, Wooden Craft Pieces, Pom Poms, Feathers, and Wiggly Eyes sets: one pine cone, one pom pom, one beak, two wings, two wiggly eyes, and three feathers.
Use a paintbrush to dab glue throughout the pine cone to attach each of the pieces.
Sprinkle glitter on remaining glue spots and allow to dry.
Enjoy your love bird as a decoration, fly it around the clasroom, or give as a Valentine gift!
LOVE these activities and ideas? Browse our selection of classroom arts and crafts and related resources to welcome warm wishes and to start planning creative activities and crafts.