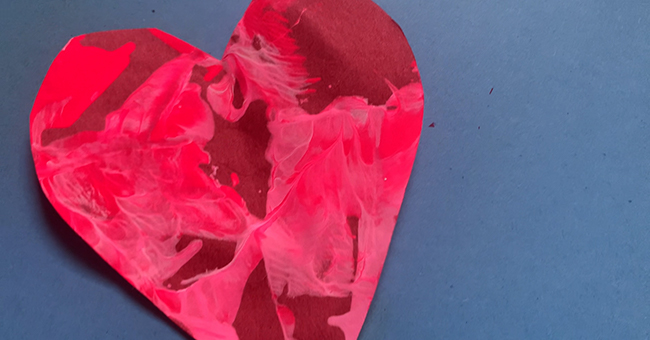 Valentine's Day is right around the corner and these 3 Easy Valentine's Day Activities for Preschoolers are the perfect way to bring Valentine's fun into any home or classroom! Children will love learning about treating others with kindness and expressing their creativity as they create one-of-a-kind Valentine's crafts through these engaging activities.
Download our FREE printable below!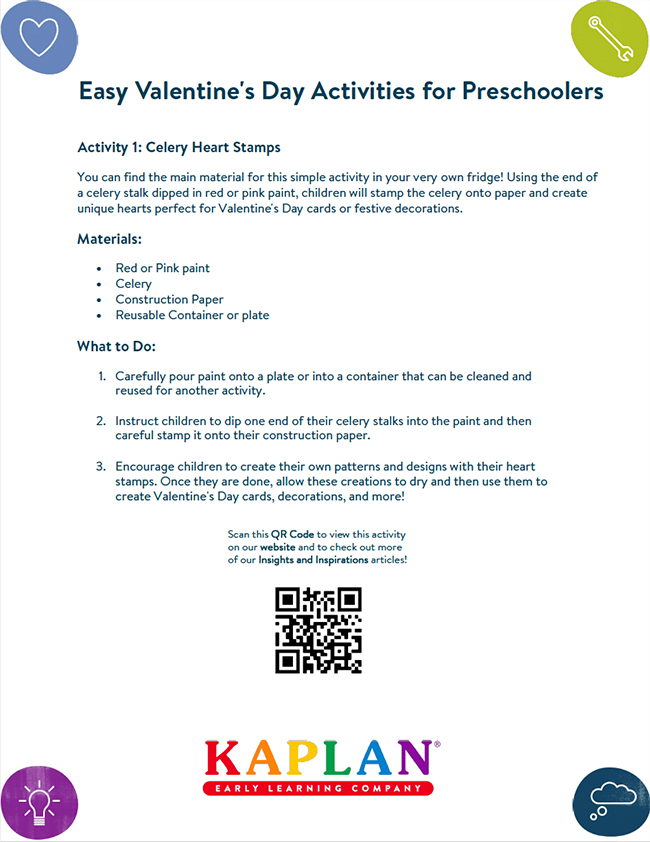 1
Celery Heart Stamps
You can find the main material for this simple activity in your very own fridge! Using the end of a celery stalk dipped in red or pink paint, children will stamp the celery onto paper and create unique hearts perfect for Valentine's Day cards or festive decorations.
Materials:
Red or Pink paint
Celery
Construction Paper
Reusable Container or plate
What to Do:
Carefully pour paint onto a plate or into a container that can be cleaned and reused for another activity.
Instruct children to dip one end of their celery stalks into the paint and then careful stamp it onto their construction paper.
Encourage children to create their own patterns and designs with their heart stamps. Once they are done, allow these creations to dry and then use them to create Valentine's Day cards, decorations, and more!
2
Paper Heart Match Up
Support early matching and problem-solving skills with the Paper Heart Match Up. Children will love creating their very own heart "puzzle pieces," mixing them up, and matching them together again!
Materials:
Construction Paper
Scissors (Adult Supervision Suggested)
Marker or Pen
What to Do:
Help children cut out several paper hearts and encourage them to draw a unique line across them such as a zig zag or squiggle. This line will be what you follow to cut the hearts in two.
Once you have drawn your designs on your hearts, cut them in half following the line. Encourage children to mix up these hearts and match them together with their missing half.
3
Shake 'Em Up Painted Hearts
Shimmy and shake with this fun activity! Children will love decorating their hearts with unique paint splatters as they try out the simple (and mess-free) Shake 'Em Up Paint Hearts activity.
Materials:
Red or Pink paint
Reusable Container with lid
Construction Paper
Scissors (Adult Supervision Suggested)
What to Do:
Help children cut out several hearts from construction paper. This can be done beforehand to save time.
Pour lines of red and pink paint into the lidded, reusable container and add your paper hearts into the container, tool.
With the lid firmly shut, encourage children to shake up the container, coating the hearts inside with paint.
Once done shaking, help the children carefully remove the painted hearts from the container. Once they're dry, encourage children to use their unique painted hearts in other Valentine's Day crafts.
Spread love and kindness with this activity and more! Browse our selection of classroom arts and crafts and related resources to celebrate Valentine's Day and to start planning future creative activities and crafts.